Issue

July-August 2012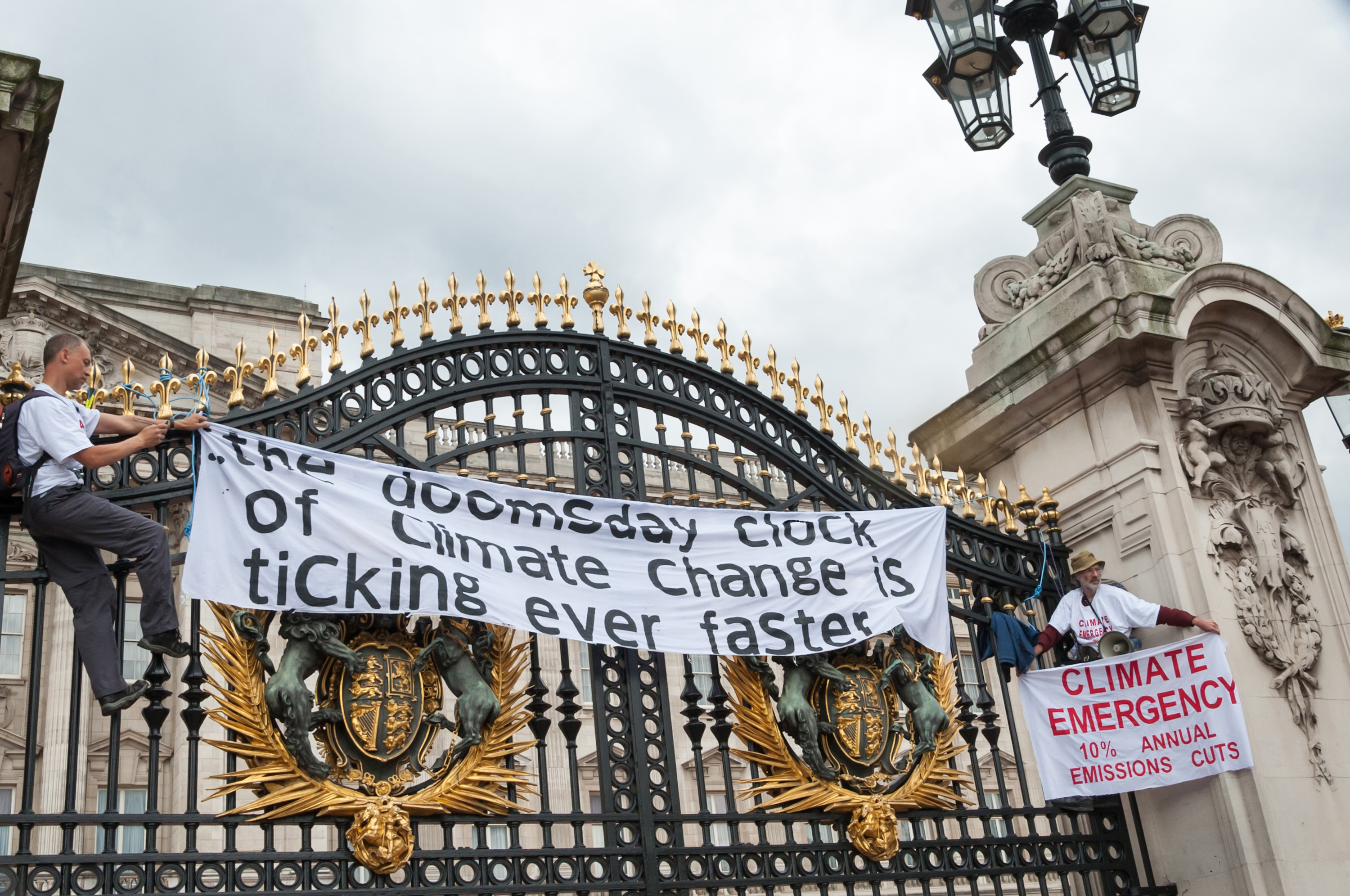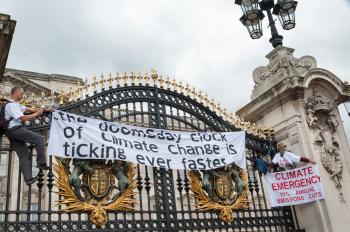 On 23 June, Climate Siren activists hung banners on the gates of Buckingham palace. PHOTO: Peter Marshall
The human race may be pushing the Earth towards a rapid, catastrophic and irreversible 'state shift' leading to mass extinctions, according to a paper by 22 leading scientists published in the world's top scientific journal, ­Nature, in the run-up to the failed Rio+20 environment conference. The Nature paper set out possible measures for avoiding or limiting the state shift, which may otherwise be similar to the 'glacial-interglacial transition' from the Ice Age, which led to the extinction of half the species of large-bodied mammals and several species of large birds and reptiles.
The paper calls for reductions in population growth, resource use, use of fossil fuels, the spread of agriculture and urbanisation, and for the preservation of reservoirs of biodiversity.
Human pressures on the planet exceed, in speed and scale, the global 'forcings' which led to massive biological change at the end of the Ice Age.
At that time, about 30% of Earth's surface changed (becoming ice-free). Today, an estimated 43% of the Earth's land has been converted by humans to agricultural and urban use. Studies suggest that when 50% of the world's land has been transformed, it may trigger a planetary 'critical transition'.
Lead author of the paper, Anthony Barnosky, observed: 'There have been big, planetary shifts before. We can see it coming. That's the difference. The dinosaurs couldn't see it coming.'
Rio+20
The Rio+20 'Earth Summit' in late June was condemned by over 1,000 NGOs, who signed a critical petition, angry that the conference did not eliminate subsidies on fossil fuels, protect women's reproductive rights or set out measures to protect the oceans.
Former Norwegian prime minister Gro Harlem Brundtland, who chaired a 1987 commission on sustainable development, agreed that among the 'complex reasons' blocking action was the power of corporations: 'I think [the allegation] is justified – it's not the whole truth but it certainly is a big part of it'.
Author and activist George Monbiot responded to Rio+20 by acknowledging that many may feel despair. He called for continued political action 'in the hope that conditions might change', 'to draw out the losses over as long a period as possible', and to take action where we do have power, including 'rewilding' – the mass restoration of ecosystems to create biodiversity refuges.