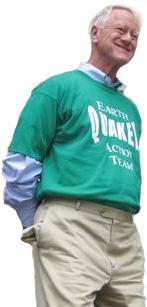 George Lakey gets arrested ...
George has stood up for radical nonviolence for decades. He persuaded PN to adopt the slogan 'for nonviolent revolution' in 1969. George was a co-founder of two important US radical institutions, the Movement for a New Society and Training for Change, he has led 1,500 workshops around the world.
George will be touring the UK and attending the entire five days of Peace News Summer Camp (26-30 July), where he will lead several sessions.
To be kept informed about the George Lakey tour, please email: admin@peacenews.info