Issue

March 2012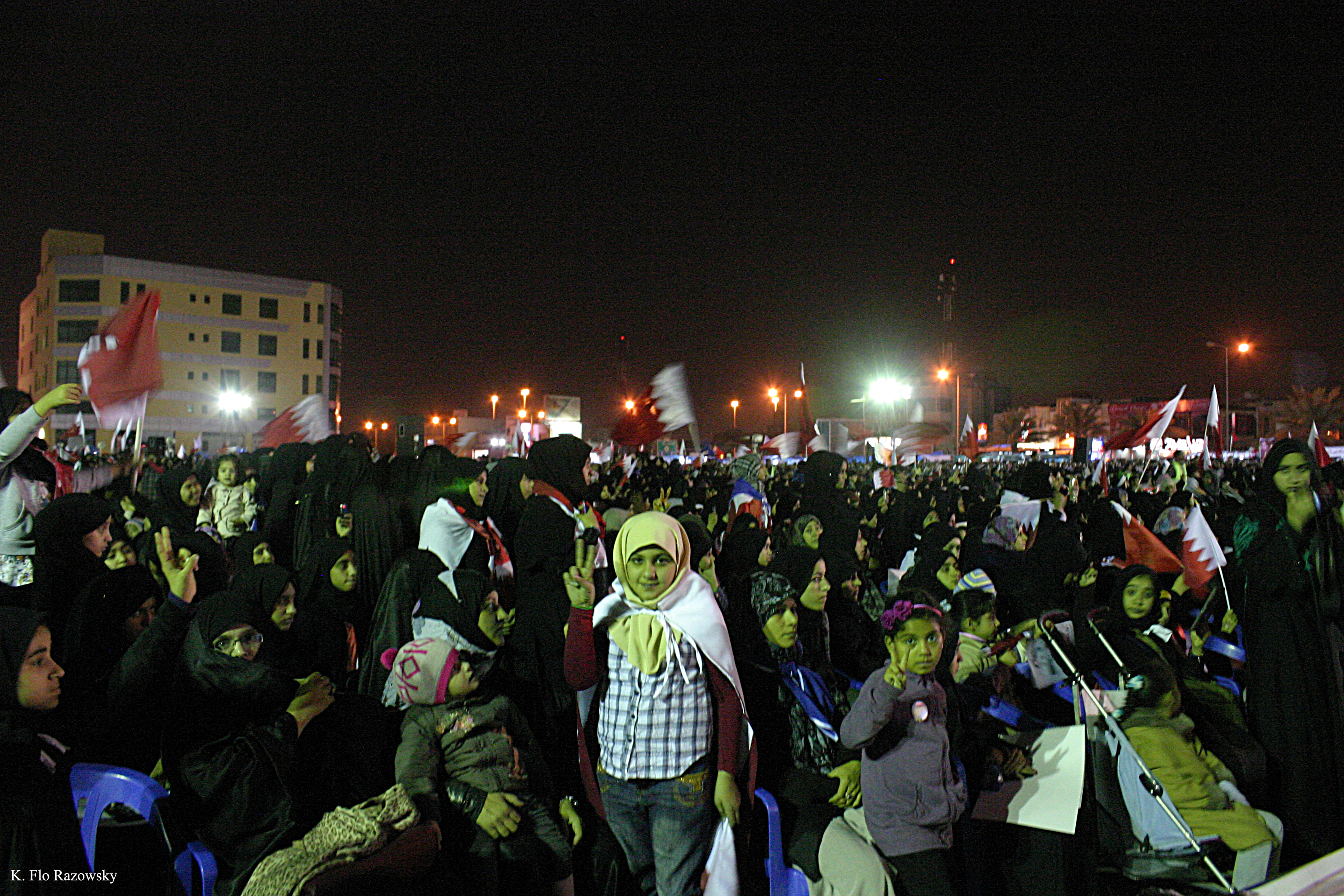 One of the nightly mass rallies in Freedom Square, Manama, Bahrain,
February 2012. PHOTO: K. Flo Razowsky
I have just arrived back in the US after being arrested and deported from the Kingdom of Bahrain. I was forced into an unmarked car by uniformed officers as I photographed a small, nonviolent protest march and the police's violent response.
The march at which I was arrested was headed for LuLu Square, or Pearl Roundabout as it is known, the birthplace of this most recent Bahraini revolutionary movement for democracy.
On 14 February 2011, tens of thousands of Bahrainis began an encampment at Pearl Roundabout as a part of the Arab Spring. The Bahraini regime, backed by over 1,000 Saudi troops, and using weaponry supplied by the US and Europe, brutally cracked down on this encampment, killing some, wounding and jailing scores.
Since that time, the peaceful movement in Bahrain has remained steadfast, holding protests and demonstrations every day, facing repression that has left over 65 dead, hundreds wounded and scores more jailed, most reporting having been tortured.
Witness Bahrain
Leading up to 14 February 2012, I was part of a group, Witness Bahrain, invited to Bahrain by human rights activists there. Although it is hard to gauge the effectiveness of such a thing, those who invited us do feel that our presence there mitigated the violence with which the police responded to protests.
In the short time I was able to be in Bahrain, I heard stories of people jailed and tortured, fired from their jobs, unable to get work. I heard stories of censorship and surveillance. I saw riot police on a nightly basis massed around the country, entering villages to suppress demonstrations and shooting massive amounts of tear gas, birdshot, rubber bullets and sound grenades into these villages and demonstrations.
I met families of people killed at the hands of the riot police. And I was teargassed along with thousands of others, saw a funeral procession attacked by riot police, marched in a demonstration that was tens of thousands strong.
At the first police station I was taken to on the day I was 'arrested', I saw what I assume was a young boy, bound and hooded, being dragged somewhere deep into the station.
I met people with cigarette burn scars still showing, people who told stories of being forced to stand for days at a time, beaten whenever they would collapse. Stories of being forced to lie naked on a cold, wet cell floor with the air conditioning on full blast; stories of being threatened with the rape of your mother, sister, wife if you did not say what the regime wanted you to say.
On 11 February, the first two Witness Bahrain activists were arrested, beginning a targeted campaign to pick us off one by one and get us out of the country, seemingly to continue the government's agenda of having no outside witnesses to their behaviour.
President Obama's administration, friendly with and fully supporting the Bahraini regime, toed the kingdom's line and accused us of incitement.
In the days leading up to 14 February, the news was full of president Obama's attempt to circumvent a US congressional veto of his proposed arms package to Bahrain, by breaking the package down into increments small enough not to need congressional approval.
President Obama has certainly not used the US's special relationship (Bahrain is home to the US navy's fifth fleet) to pressure the kingdom to respond less violently to its people. He has given Bahrain the green light.