Issue

June - July 2023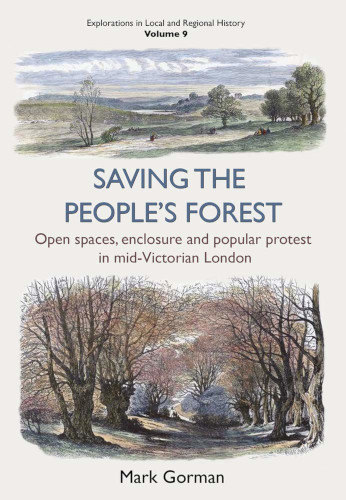 Following the January 2023 mass trespass on Dartmoor, the 2014 – 2018 campaign to stop the felling of trees in Sheffield and the government's 2011 U-turn on the privatisation of the forests, Saving The People's Forest is a timely reminder that activists working today are part of a long line of popular struggles to protect public access to nature in the UK.
The book's title refers to Epping Forest, on the border of Greater London and Essex. At 5,900 acres, it is the largest open space in the London area, visited by millions of people every year. Mark Gorman tells the story of how it was saved from enclosure (landowners grabbing public land for private use) by a hard- fought campaign, peaking in the late 1860s and early 1870s.
Gorman chooses to focus on the role of 'ordinary Londoners' rather than elite actors such as the well-known Commons Preservation Society. The insights he gives into the mobilisation – and the many parallels with contemporary protests – will likely be of interest to Peace News readers.
For example, like all struggles, there were links to other movements active on overlapping issues, with the Chartists' and Reform League's campaigns for universal (male) suffrage forming the background to popular participation in the anti- enclosure movement.
As with the 15 February 2003 anti-Iraq war march, the government tried to stop an 1867 Reform League national demonstration from taking place in Hyde Park in Central London. It offered alternative venues – which were rejected by the organisers.
'The League's leaders believed that only by protesting... near to the seat of government would they achieve the political impact they were seeking' – exactly why Extinction Rebellion chose to hold its historic April 2019 mass civil disobedience in the heart of the capital.
The campaign to protect Epping Forest included a range of actions, including open-air demonstrations, petitions to parliament, public meetings, legal action, lobbying the Liberal government and, in a decisive turning point, the pulling down of enclosure fences on Wanstead
Flats, the most southern part of the forest, after a huge protest in 1871.
Though the use of 'physical force' was controversial, Gorman argues that the visit to Wanstead Flats by prime minister William Gladstone the following week 'seemed ample vindication of the demonstrators' tactics'.
An Epping Forest Act was passed later that year, with another in 1878, 'preserving it for all time as an open space for the recreation and enjoyment of the public'.
Based on Gorman's PhD, this local history study is academic in tone and content, though broadly accessible to non-specialists like me – and a valuable examination of an inspiring, if largely forgotten, example of successful environmental protest.