Issue

June - July 2023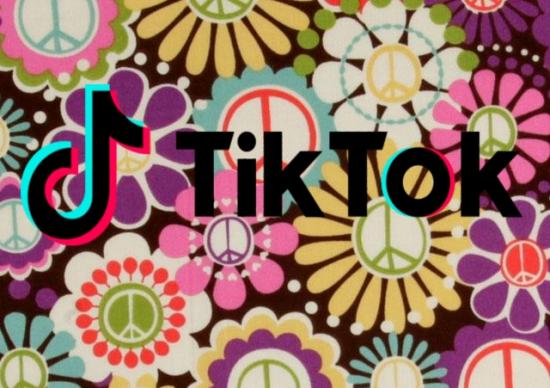 With a billion users every month, TikTok has gone from a social media platform known for silly dances to a powerful political weapon. This has been demonstrated by the fact that two successive US presidents have tried to ban the app on 'national security' grounds.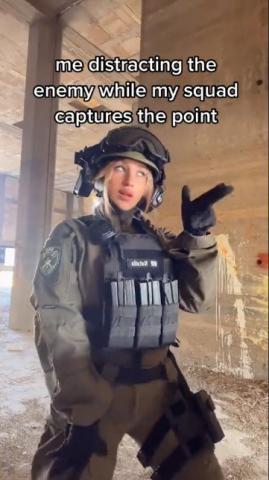 It has been shown that TikTok's algorithms can determine a user's political preferences after just 15 minutes of scrolling and then gradually place the user in an echo chamber where they only encounter views they agree with.
Warmongers know this and have flooded the app with hundreds of 'MilTok' ('military TikTok') influencers, with hashtags like #pewpew and #militarycurves. Some will be 'bot' accounts, automated programmes pretending to be real people.
The hashtag #NuclearWeapons throws up willy-waving videos of nuclear blasts, while #Peace is drowned in personal wellbeing content.
The visibility of peace campaigners is limited. We need a strategy to propel us onto TikTok. If we don't push our message there, who will?
As London CND co-ordinator, I've led efforts to create a CND page. As a 24-year-old, you'd think I'd be in tune with the latest social media developments but believe me, nothing could have prepared me for this. Here's a few things I've learnt.
1) TikTok is extremely weird
On downloading the app, you will be subjected to a chaotic variety of clips, from silly pranks to borderline porn. TikTok banks on surprising its users, so it always shows a mix of videos that correspond to established taste as well as the drastically different. So a real question for campaigners is: how far are you happy to go?
At CND, nobody felt comfortable dancing and lip-syncing, so we tried creating a different sort of content. The result has been interesting.
Even with a small number of followers, we got far more views on TikTok than a comparable Facebook or Twitter following would.
In our earliest days, with only 35 followers, we reached nearly 1,800 people with a video on the links between nuclear weapons and the climate crisis. Many videos on more established accounts, like @codepinkalert with nearly 40,000 followers, often get the same numbers of views – though they've been very good at creating viral content too! Being small at the start doesn't mean you'll be invisible.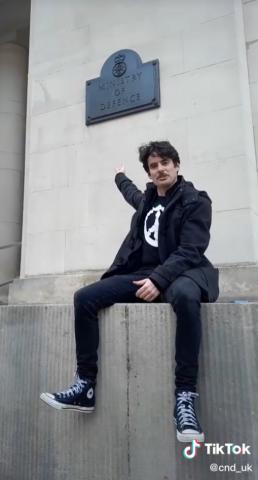 2) A not-so-social media
Unlike Facebook or Instagram, TikTok is not a platform aimed at connecting you to people you know. It is more of an entertainment space, a bit like Netflix but more participatory.
While Twitter encourages discussion, TikTok information is packaged. The focus is on the interaction between movement and music to create engaging content. This means TikTok isn't intended for advertising events, but is most useful for raising awareness.
However, individuals do interact, and not always with the best intentions. The amount of trolling CND has received on TikTok is unprecedented. We have decided to allow comments, regardless of whether they're positive or negative, because comments drive our videos up in the algorithms. We thank the trolls for their contribution to nuclear disarmament!
3) Tiktok will push your creativity
Even if you're unwilling to go all the way into cute e-girl* territory, using TikTok is likely to inspire you to present your message in a radically different way.
CND commonly shares videos extracted from online webinars on Twitter or Facebook. This simply wouldn't fly on TikTok. The pace of scrolling is so fast that the first few seconds really count. We've had to narrow down the points we wanted to make and try different methods with engaging opening graphics.
Give it a try! Here's how we make most of our videos: first, film lots of short clips; then upload them onto TikTok and re-order them, placing the most engaging first; next choose music from the TikTok 'Sounds' library.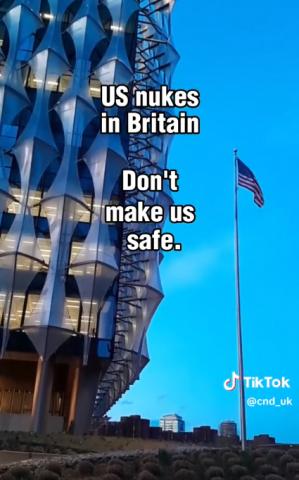 This process creates a narrative that we support with some text. It's very intuitive and tutorials are available. Speaking to camera requires more preparation but is very engaging too.
It's worth trying multiple strategies, and there is much value in peace campaigners working together to expand our online presence.
TikTok is shaping younger generations' expectations of communication – the worst thing we can do is ignore it.
If you're interested in exploring what I've named #PeaceTok, here's a few accounts I recommend:
@nuclear_stories, for short explanatory videos on interesting nuclear weapons-related facts
@mackenzietalksnukes, an MA student discussing all things nuclear
@codepinkalert, CODEPINK's TikTok page with a focus on peaceful actions
And give us a follow: @cnd_uk