Issue

June - July 2023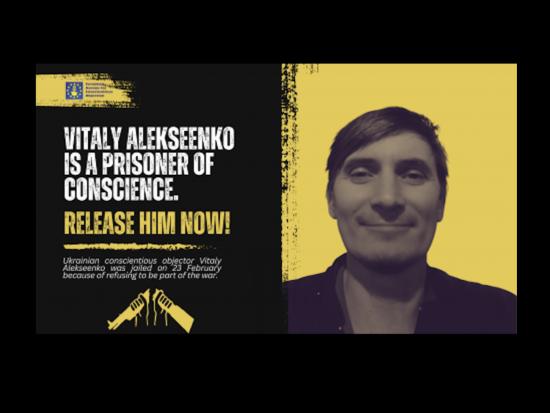 In Ukraine, Mykhailo Yavorsky, a 40-year-old Christian from the southwestern city of Ivano- Frankivsk, is out on bail, preparing to appeal against a one-year jail term handed down on 6 April for refusing military service on grounds of conscience, reports Forum 18.
Ukraine has suspended the right to conscientious objection (including the right to alternative service) – something that has been denounced by the European Bureau for Conscientious Objection (EBCO).
'I adhere to the New Testament,' Yavorsky told Forum 18 on 2 May. 'Jesus said you must love God and love your neighbour – this is the most important thing.'
'I would not carry weapons and would not put on a uniform, as I can't kill a person,' Mykhailo added. 'But they offered me no alternative service. No one asked me what I believe.' If his appeal fails, he will be taken to prison to begin serving his sentence.
Mykhailo is the second Ukrainian CO known to have been sentenced to prison since the Russian invasion on 24 February 2022.
Back on 23 February, 46-year-old Christian conscientious objector Vitaly Alekseenko began serving a one-year jail term after his requests for alternative civilian service were ignored (PN 2664). Vitaly's appeal was due to be heard at the supreme court on 25 May.
Since Russia's renewed invasion of Ukraine in February 2022, Ukrainian courts have given six COs suspended prison sentences and terms of probation.
For example, on 3 February, according to Forum 18, another Christian CO, Hennady Tomniuk, was given a three-year suspended sentence for refusing military service on grounds of conscience. A Jehovah's Witness has apparently been acquitted of refusing the call-up, but the verdict is being appealed.
The Ukrainian army has rejected requests by Christian conscientious objector Andrii Vyshnevetsky to be transferred to an alternative civilian service. The 34-year-old was mobilised in Odessa in September 2022 and is currently serving in a military kitchen. A supreme court hearing was due as PN went to press.