Issue

June - July 2023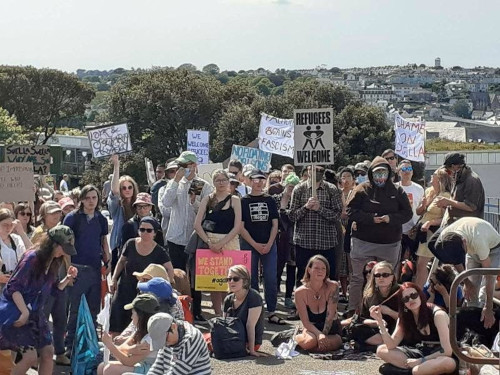 A so-called 'Illegal Migration Bill' was being pushed through its last stages in the House of Lords as PN went to press.
This law would prevent people who had travelled in small boats across the Channel to arrive in the UK from being considered for asylum. They would be detained and removed 'as soon as reasonably practical' to Rwanda or to another 'safe third country'. There are also plans to ban those removed from returning to the UK.
The United Nations high commissioner for refugees has previously said that a blanket ban on claiming asylum for those arriving on small boats would breach the Refugee Convention: 'Everybody has the right to seek asylum from persecution in another country, and there is no such thing as an illegal asylum seeker.'
The UK, as a signatory to the European convention on human rights (EHCR) has a duty to consider all asylum claims on their merits, but the government is trying to get round this obligation.
Indeed, British prime minister Rishi Sunak has caved in to right-wing MPs to allow the UK to ignore rulings from the EHCR on small boat crossings.
There are no legal routes for seeking asylum in the UK except for favoured groups from a few countries: Ukraine, Afghanistan and Hong Kong.
Meanwhile, the numbers of refugees in the UK have continued to increase as the UK delays considering their asylum claims. The home office is trying to find cheaper, non-hotel accommodation for asylum- seekers, either in disused army camps or in old ships.
Lawyers have described the plans as unworkable. On 10 May, the archbishop of Canterbury, speaking in the Lords, described the illegal immigration bill as 'morally unacceptable' legislation that would 'damage the UK's interests and reputation at home and abroad'.