Issue

June - July 2023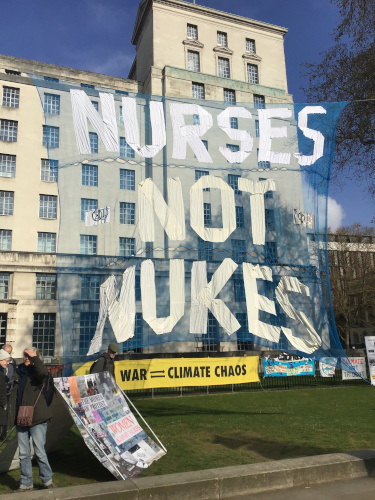 The longest sentences yet imposed on climate activists were handed down on 21 April, at Southend crown court, when a jury found two Just Stop Oil activists guilty of causing a public nuisance. Judge Shane Collery KC sentenced Morgan Trowland, 40, to three years in prison and Marcus Decker, 36, to two years seven months, to 'deter' copycat actions.
The two were arrested last October after they had climbed 200 feet up onto the QEII Bridge over the Dartford Crossing in East London, leading to the bridge being closed for 40 hours.
Three days later, at the end of Extinction Rebellion's four- day protest in London, Just Stop Oil (JSO) began a sustained campaign of disruptive daily 'slow marches' in London, in 'solidarity with the UK's political prisoners including those wrongly imprisoned for resisting the government's genocidal plans to licence over 100 new oil and gas projects by 2025'.
The daily JSO slow marches, which are generally forced off the road by police, were continuing as PN went to press – though they are sometimes very small. There have been some arrests. For example, 13 marchers were arrested on 11 May under the new Public Order Act 2023, which specifically bans slow marches.
The Big One
Extinction Rebellion (XR) created a wide coalition of support for its four-day 'The Big One' non- confrontational protest in Central London from 21 – 24 April.
200 leading environmental and social justice groups, including Greenpeace (previously the target of an XR protest), War on Want and Global Justice Now became involved. Tens of thousands of people took part, with marches, pickets at government offices, workshops and stalls. The London Marathon went off without a hitch on 23 April, despite the presence of thousands of environmental activists.
Large numbers of protesters at The Big One took part in digital polling which showed that an overwhelming majority were in favour of both civil disobedience and organising locally. Almost half of them also chose 'Pathway 1': 'Picket'. This meant they agreed to add their support and physical presence to the current wave of union strike actions.
XR, along with Fossil Free London and other climate action groups, helped to disrupt the Barclay's bank AGM in London on 3 May, the HSBC bank AGM in Birmingham on 5 May and the National Conservatism (NatCon UK) conference on 15 May.
May also saw a Europe-wide wave of youth-led climate protests, under the banner, 'End Fossil – Occupy'. This included 22 occupations of universities and schools. In Lisbon, Portugal, students occupied seven schools and two universities, supported by road blockades.
At the end of last year, 50 schools and universities around the world were occupied as part of the same campaign; at three of them, the occupiers were violently evicted by police.
There have also been protests outside London courtrooms because judges have barred climate action defendants from explaining the reasons for their actions or pointing out to juries that they are entitled to ignore directions given by judges. For example, on 15 May, 24 activists risked contempt of court charges by holding posters outside the Inner London crown court reading: 'Jurors have an absolute right to acquit a defendant according to their conscience.'
In other news, 118 animal rights protesters were arrested for public order offences at the Grand National horse race on 15 April. Some of them occupied the racecourse, holding up the race for a quarter of an hour.
 
Also, in an annual event, some hundreds of swimmers entered Kinder Reservoir on 24 April, the anniversary of the famous Kinder Scout mass trespass of 1932. Access to the reservoir is officially banned, but no action has been taken against the annual swimmers.