Issue

April - May 2021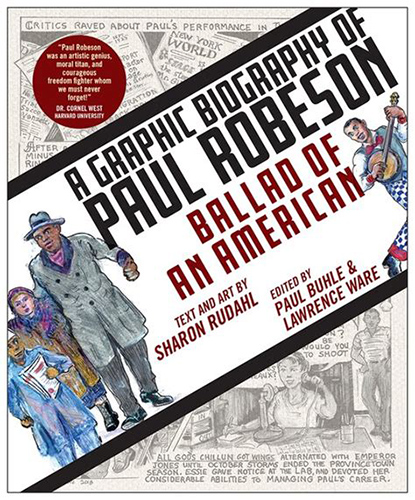 Image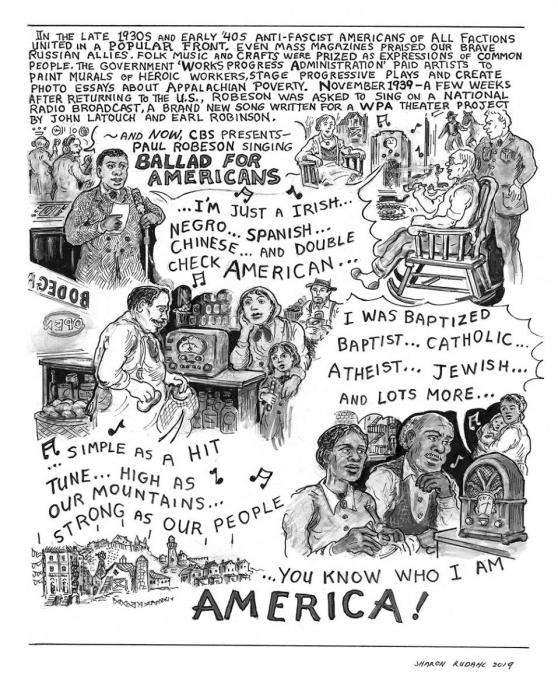 Image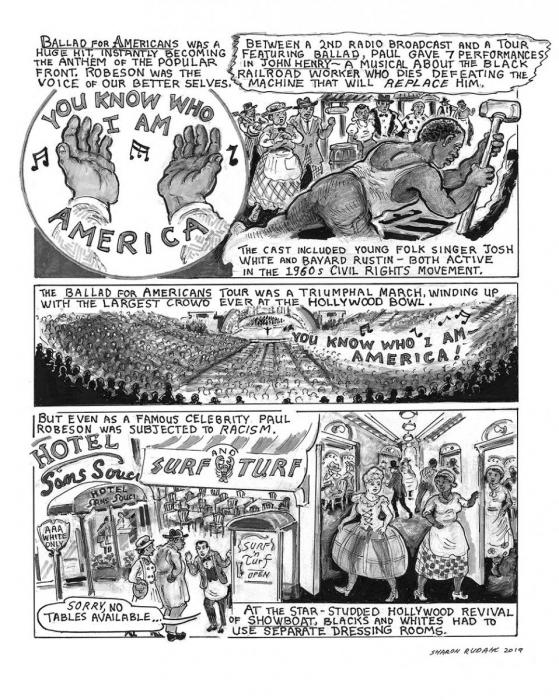 Gabriel Carlyle writes:
Feminist underground comix veteran Sharon Rudahl's latest work takes on the life of Paul Robeson: actor, world-class athlete and electrifying singer.
The most famous African-American of his time, Robeson fell victim to the Red Scare after the Second World War. This saw him shunned by stage and studio and denied his passport.
The US state department, fearful of his outspoken criticism of US racism and of colonialism, ruled that 'Robeson's travel abroad would be contrary to the interests of the United States.'
Ballad of an American takes us from Robeson's childhood struggles (for a time, his family had to live in the attic of a five-and-dime store) through to his admission to Rutgers university and beyond.
Though there were only two Black students at Rutgers, Robeson led the football team and achieved the university's highest academic honour.
The book also covers his massive success on stage and screen and his growing involvement in a wide array of struggles for racial and social justice, which led him to both Republican Spain and the Soviet Union.
Interestingly, Robeson's experiences in Britain – and especially Wales – appear to have played a key role in his political development.
While in London in 1929 (where he was performing as Joe, the stevedore, in Oscar Hammerstein and Jerome Kern's musical, Showboat), Robeson chanced upon a demonstration of locked-out Welsh coalminers from the Rhondda Valley.
He joined the march without hesitation. This began a long association with Welsh miners, which saw him (then one of the most famous film actors in the world) frequently visiting Welsh mining towns.
He sang for the men and their families, and used his singing to raise money for their Relief Fund.
Robeson would later say that he learned more from the white working class in Wales than from anyone else.
During his time in Britain, Robeson moved in the same circles as George Bernard Shaw and Rebecca West.
He got to know future African prime ministers Jomo Kenyatta and Kwame Nkrumah (then both students). He even befriended the legendary anarchist, Emma Goldman – she said that 'nothing [she] had been told adequately expressed the moving quality of [Robeson's] voice'.
At a 1937 fundraiser for the Spanish Republic at the Albert Hall, sponsored by HG Wells and Virginia Woolf, Robeson told the audience: 'The battlefield is everywhere. The artist must take sides. He must elect to fight for freedom or slavery. I have made my choice.'
This wonderful graphic novel is an excellent starting point for anyone wishing to learn more about this remarkable human being.