Issue

April - May 2021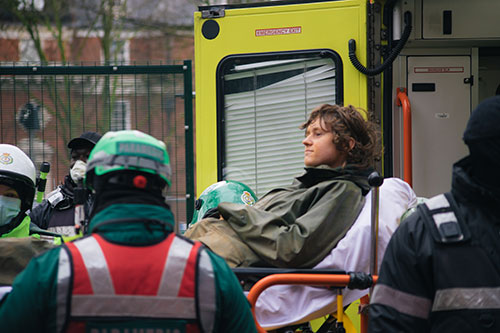 On 26 February, the final occupier came out of a tunnel under Euston railway station in central London. Bradley was taken away in an ambulance, having spent 31 days underground.
The tunnels were dug under an anti-HS2 protest camp which was set up in August in Euston Square Gardens, outside Euston station.
The aim of the Tree Protection Camp was to stop the felling of the trees in Euston Square to make way for new taxi ranks for the new HS2 terminus. Half the Gardens had already been replaced with new taxi ranks.
On 26 January, bailiffs entered the tented camp with its tree houses, to remove the occupiers. Five campers were arrested and charged.
The bailiffs then discovered the 100-foot long network of tunnels that had been built under the camp. Nine protesters were in the tunnels, with four locked-on.
Bailiffs dug a new shaft, parallel to the protesters' shaft, connecting with it on 4 February.
Occupiers came out voluntarily during February, including two 16-year-olds, two 17-year-olds and a 48-year-old.
On 25 February, three of the last four occupiers emerged and were arrested: well-known environmental protester Daniel 'Swampy' Hooper, 48; Isla Sandford, 18; and Juliet Stephenson-Clarke, 22.
The following day, they appeared before Westminster magistrates charged with aggravated trespass.