Issue

April - May 2017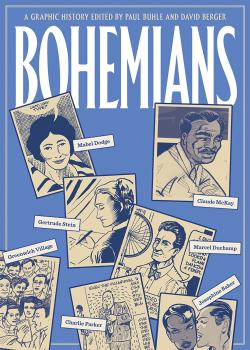 'Bohemians have occupied a semi-subversive status in modern society without being, in any consistent way, political-minded or even organised', notes Paul Buhle in his insightful introduction to this wonderful collection of comics.
Featuring almost 30 separate stories, artwork by over a dozen different artists, and with a a timeframe spanning over 100 years (one of the first stories tells the story of the New York-based Unitary Household, who practiced free love and critiqued gender roles in in the late 1850s) this is a book as wide-ranging as it is engrossing.
Focussing on the period before 1950 – and mainly on the US side of the Atlantic where 'the racial role in bohemianism becomes crucial' – it covers both the well-known (Walt Whitman, Woody Guthrie and Josephine Baker) and the not-so-well-known (Claud McKay, Ada Clare and Arturo Giovannitti).
Standouts include Dan Steffan's comic on Alfred Stieglitz and modern art in New York, Hillary Allison's take on queer photographer Carl van Vechten, and the amazing story of Abe Meeropol and the origins of the song 'Strange Fruit' (as told by Sharon Rudahl).
Rudahl, author of a fantastic graphic novel biography of Emma Goldman, also contributes pieces on 'Trilbymania' (an 1890s fad based on a best-selling novel about bohemians living in Paris, which has left us the hat of the same name) and the remarkable Victoria Woodhull.
Co-founder of a radical progressive paper in the 1870s, the latter became the first woman candidate for the US presidency (with Frederick Douglass as her vice-presidential candidate!) – though she actually spent the 1872 election date in jail for 'publishing an obscene newspaper'. She later moved to England, married a titled art collector and became a member of British high society.
'By joining themselves sympathetically to the labor strikes of the 1910s and later to the assorted social causes of industrial unionism, the Popular Front, the wartime antifascist Resistance and the antiwar student uprisings of 1968,' Buhle notes, bohemians 'contributed significantly to left-wing movements', even if 'too often they flitted off at the first signs of danger of disillusionment'.
Bohemians is a great place to engage with this slice of radical history.