Issue

April - May 2017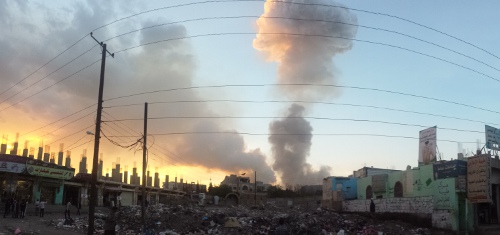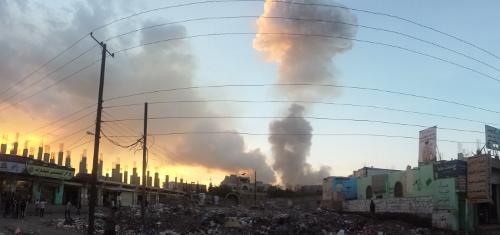 Airstrike in Sana'a, Yemen, 11 May 2015. Photo: Ibrahem Qasim (CC BY-SA 4.0) via Wikimedia Commons
26 March marked two years since the Saudi-led bombardment of Yemen began. Since then, 10,000 people have been killed and millions have been left without access to vital infrastructure, clean water or electricity. An estimated 17 million people are food-insecure and require urgent humanitarian assistance
For decades now, Saudi Arabia has been by far the largest buyer of UK arms. The Saudi air force is using UK-licensed fighter jets, bombs and missiles in its ongoing bombardment of Yemen.
Since the bombing began in March 2015, the UK has licensed over £3.3bn worth of arms to the regime, including:
 £2.2 bn worth of ML10 licences (aircraft, helicopters, drones)
£1.1 bn worth of ML4 licences (grenades, bombs, missiles, countermeasures)
£430,000 worth of ML6 licences (armoured vehicles, tanks)
These weapons have underpinned an intimate political and military relationship, causing the UK to make excuses and look the other way while atrocities have taken place. They have also been used with devastating consequences: Amnesty International and Human Rights Watch are among those that have linked UK bombs to attacks on civilian infrastructure.
For two years now, Saudi forces have unleashed a brutal humanitarian catastrophe on the people of Yemen. The response from Whitehall has been to keep arming and supporting the Saudi regime, irrespective of the destruction it has caused. Ten thousand people have been killed, yet the message being sent out is that their lives are less important than profits for arms companies.
The legality of these arms sales is currently the subject of a judicial review, following an application by Campaign Against Arms Trade.
The claim calls on the government to suspend all current licences and stop issuing further arms export licences to Saudi Arabia for use in Yemen while it holds a full review into whether the exports are compatible with UK and EU legislation. The verdict is still pending as PN goes to press.
We are always being told that the UK enjoys a strong influence over Saudi Arabia. If that is true then it needs to use its influence to call and work for a meaningful and lasting ceasefire. Britain must also end its own complicity and stop the arms sales. Forging lasting peace from a conflict zone is never easy, but as long as governments like the UK continue to prioritise arms company interests then it will be civilians who pay the price.