Issue

April - May 2017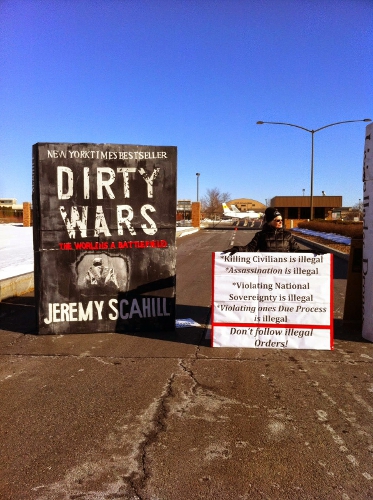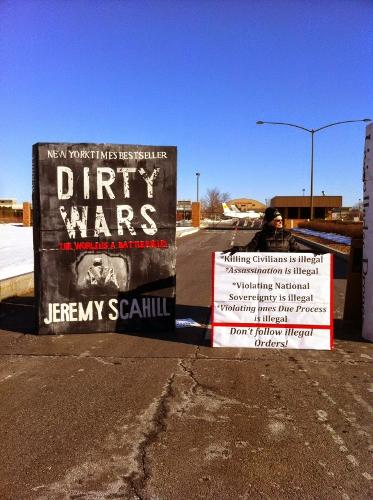 'Big Books' action blocks US drone operators' base, Hancock, New York, 19 March 2015. Photo: Upstate Drone Action
Two sets of drone resisters in New York state, USA, walked free from court, after a 'not guilty' verdict on 2 March, and the dismissal of separate charges on 10 March.
In the first case, Daniel Burns, Brian Hynes, Ed Kinane and James Ricks were found 'not guilty' by a jury in Dewitt town court. They had been charged with obstruction of government administration, disorderly conduct, and trespass in relation to an action at USAF Hancock, a major drone operator base. The four had faced a year in prison.
In powerful testimony, James Ricks told the jury about meeting the families of drone victims and seeing the wreckage of Hellfire missiles. Jurors were brought to tears several times.
Daniel Burns said: 'Would any of us deem it acceptable for our precious loved ones to be sacrificed for another nation's anticipatory self-defence. Of course not! Moreover, if drones were being aimed at my children by another country, I would hope with all my might that the citizens of that country might try and stop their country's illegal and immoral actions.'
Ed Kinane told the jury in clear and powerful language about his time living in Iraq during the war and about the terror sown by drones.
During the trial, Brian Hynes told the jury: 'This is not a case about contested facts, this is a case about contested meanings.' He went on to explain to the jury that they could, in the words of the 4th circuit of appeals, acquit for any reason which appeals to their logic or passion. In Britain, as in the US, this is known as 'jury nullification', and was used by English juries to acquit Clive Ponting in 1985 and Pat Pottle and Michael Randle in 1991.
A juror approached Brian Hynes after the verdict and said: 'I really support what you are doing. Keep doing it.'
The trial resulted from an action on 19 March 2015, when seven members of the Upstate Coalition to Ground the Drones and End the Wars shut the main gate of the Hancock air force base (near Syracuse, New York state) with a giant copy of the UN charter and three other giant books – Dirty Wars by Jeremy Scahill, Living Under Drones, and You Never Die Twice.
If Herod had drones
In the second case, on 10 March, DeWitt town court judge David Gideon dismissed charges against John Amidon, Ed Kinane, Jules Orkin and Bev Rice, who had also protested against hunter-killer MQ9 Reaper drones piloted over Afghanistan by operators at Hancock.
The case was dismissed on technical grounds as prosecution documents repeatedly referred to actions taking place on Federal property – which the judge declared was outside his jurisdiction.
The four had staged a 'Nativity tableau' in front of Hancock's main gate on 23 December. Their huge banner said: 'If Herod had drones, Jesus, Mary and Joseph would have been incinerated.'
More info:
www.upstatedroneaction.org