Issue

April - May 2017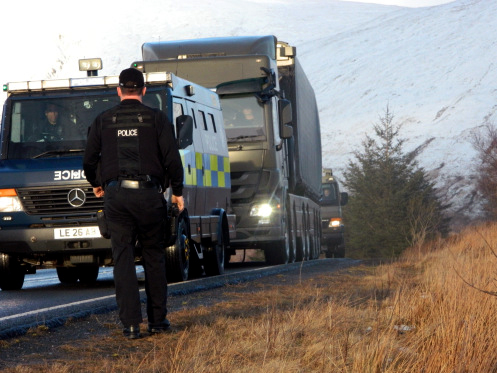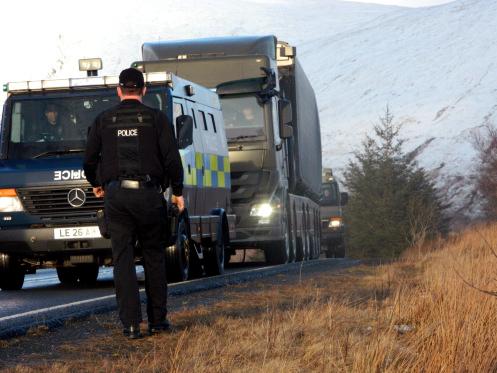 A nuclear warhead convoy is brought to a full stop on the A817 near Helensburgh, Scotland, on 22 March by Faslane Peace Campers.Photo: Faslane Peace Camp
In Scotland, peace activists connected to Faslane Peace Camp have blockaded the Faslane Trident submarine base, held an open day as part of the camp's 35th birthday celebrations. Oh, and halted a nuclear warhead convoy.
The 2 February blockade was carried out by five peace campers who 'locked-on' to each other by chaining their hands together inside arm tubes, while lying on the road at South Gate. Faslane is the home port of Britain's Trident nuclear missile submarines.
Police cut the last activists free and took them off-site at 9.20am, after one of the two main gates into the base had been shut for two and a half hours.
The action was sparked by the revelation that there had been a cover-up of a British Trident ballistic missile misfiring last June.
The warhead convoy stoppage on 22 March took place on the A817, just inland from Faslane and some way away from its destination, the armament depot at Coulport, west of Faslane.
Peace campers wrote afterwards: 'It seems to us that it is only a matter of time before a serious incident happens, the effects and repercussions of which are too complex and frightening to imagine. This is why we seek to hinder their progress and highlight the dangers and the incidence of these lethal convoys.'
They also warned members of the public to refrain from taking action against nuclear warhead convoys: 'Please note that activists from Faslane Peace Camp are acutely aware of the dangers involved when taking action against a convoy – we are exceptionally careful in both planning and execution of any and all actions'.