Issue

October - November 2016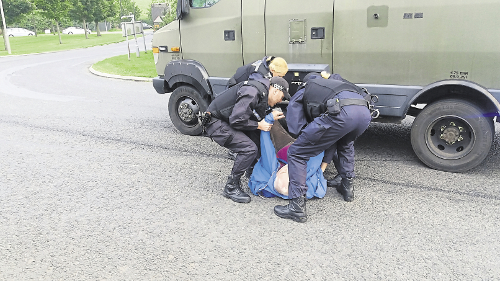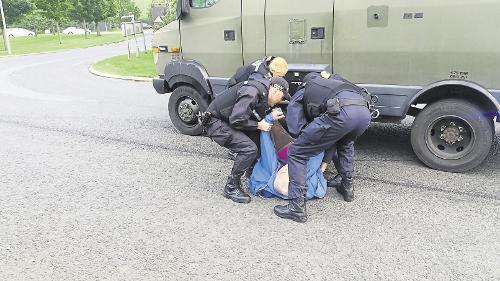 Police remove Brian Quail from under escort vehicle of nuclear warhead convoy, 16 September. Photo: Nukewatch
On 16 September, 77-year old retired teacher, Brian Quail stopped his second nuclear warhead convoy, this time at Raploch, near Stirling in Scotland. Brian and fellow activist Alasdair Ibbotson flagged the lead truck down, slowing it down. Alasdair lay in front of the second truck, which had stopped, and Brian crawled underneath it. They held the convoy up for 15 minutes while a number of police spent a considerable time working out how to remove them.
In one of the pictures, a stumped cop can be seen scratching his head, as colleagues try to coax Brian out from under the armoured car. The trucks had left the atomic weapons establishment Burghfield near Reading in England two days earlier, before slowly making their way up to Scotland.
This same convoy was stopped a second time by folk from Faslane Peace Camp at Balloch, at the south end of Loch Lomond.
Brian stopped his first nuclear convoy on 10 March, representing the great majority of Scots who are opposed to having British nuclear weapons housed in their country.
He waited for the convoy from Burghfield at a pelican crossing in Balloch. At the opportune moment he pushed the stop button, and the convoy politely stopped to let him cross the road. He then lay in front of the lead vehicle preventing the convoy moving off until he was removed from the road. (See PN 2592-2593.)