Issue

October - November 2014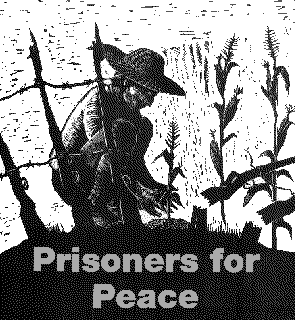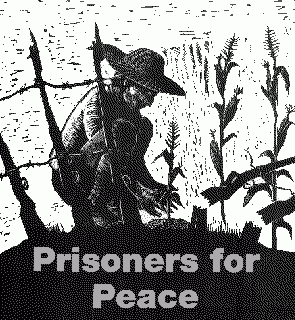 Please send a card for 1 December Peace Prisoners Day. More names and addresses can be found on the War Resisters' International website:
www.wri-irg.org/node/4718. Please send your card in an envelope and include a return name and address on the envelope. If a prisoner's number is given, include this with the address. Please avoid writing anything that might get the prisoner into trouble.

China: Liu Yuandong (detained 23 February 2013 after taking part in a protest against North Korea's nuclear tests), Tianhe District Detention Centre, Guangzhou, China.

South Korea: Park do hyeon #535 (detained 1 July 2013 after nonviolent direct action at a naval base construction site: awaiting trial), Jeju Prison, 161 Ora-2 dong, Jeju City, Jeju Special Self-Governing Island, 690-162, South Korea.

Kim moo seok #805 (in prison 13 August 2013 — 12 February 2015 for refusal to undertake compulsory military service), Southern Seoul Prison, PO Box 165, Geumcheon-gu, Seoul, Republic of Korea, 153-600.

Turkmenistan: Amirlan Tolkachev (in prison 10 July 2013 – 9 Jan 2015 for being a Jehovah's Witness conscientious objector), Seydi Labour Camp, 746222 Lebap vilayet, Seydi, uchr. LB-K/12, Turkmenistan.

USA: Rafil Dhafir 11921-052 (in prison 26 April 2000–26 April 2022 for convictions resulting from providing humanitarian and financial aid to Iraqis in violation of US sanctions), FMC Devens, Federal Medical Center, PO Box 879, Ayer, MA 01432, USA.

Chelsea (formerly Bradley) Manning 89289 (in prison 15 May 2010–20 August 2048 for whistleblowing), 1300 North Warehouse Road, Fort Leavenworth, KS 66027–2304, USA.

Norman Edgar Lowry Jr. KN 9758 (in prison 1 August 2011 possibly until 31 August 2018, for third trespass at military recruiting office), SCI Dallas, 1000 Follies Rd, Dallas, PA 18612, USA.

Brian Church 2012–0519002; Jared Chase 2012–0519003; Brent Betterly 2012–0519001; and Mark Neiweem 2012–0520023 (all held on bail since 18 May 2012 pending charges related to protests at NATO summit in Chicago, May 2012), PO Box 089002, Chicago, IL 60608, USA.

The Transform Now Plowshares three are in prison for their disarmament action at the Y-12 nuclear weapons complex, Oak Ridge, Tennessee in July 2012. Megan Rice 88101–020 (in prison 5 August 2013–5 July 2016), MDC Brooklyn, PO Box 329002, Brooklyn, NY 11232, USA. Gregory Boertje-Obed 08052–016 (5 August 2013–5 October 2018), USP Leavenworth, PO Box 1000, Leavenworth, KS 66048, USA. Michael Walli 92108-020
(5 August 2013–5 October 2018), FCI McKean, Federal Correctional Institution, PO Box 8000, Bradford, PA 16701, USA.