Issue

February 2014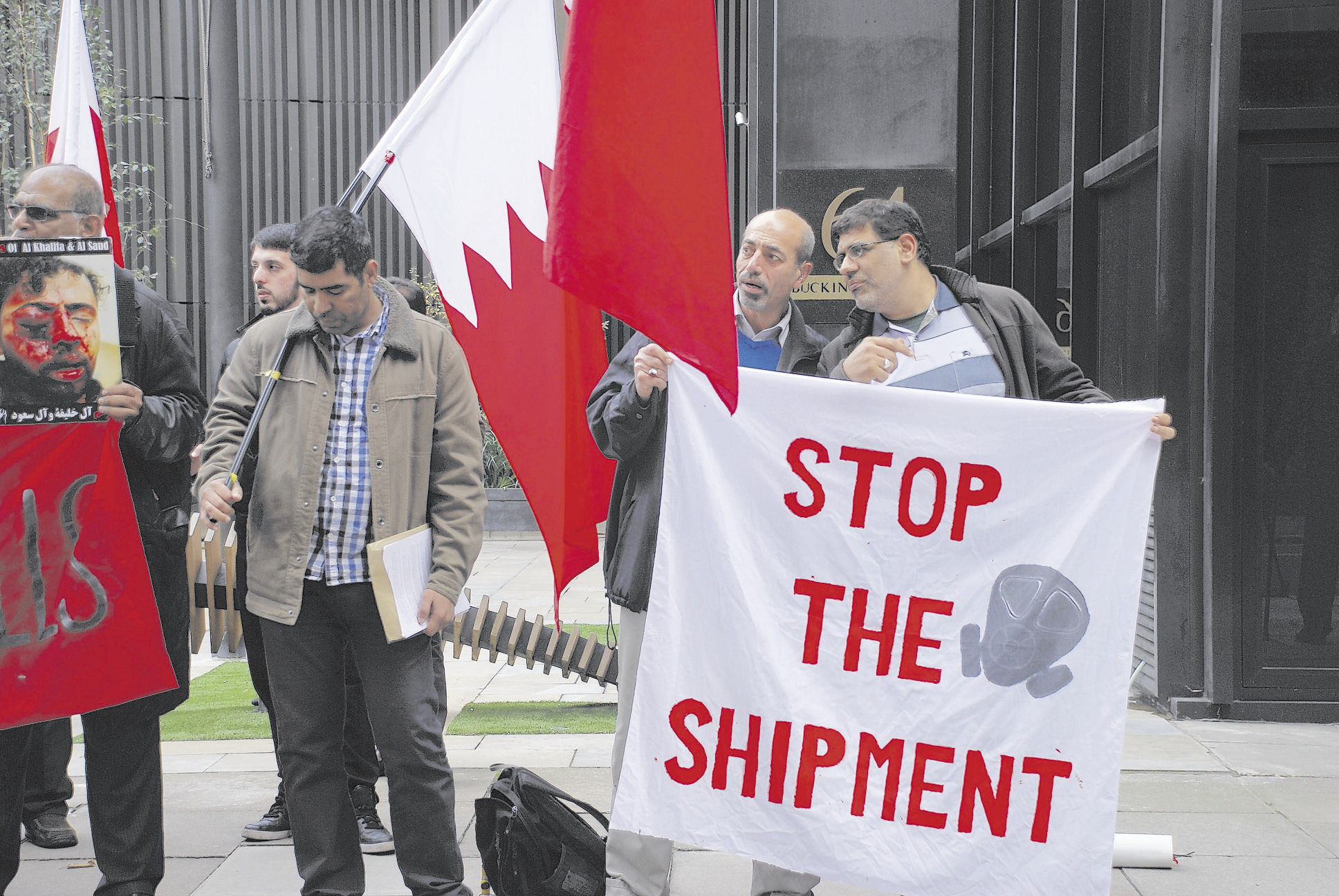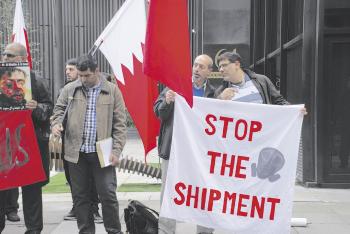 Bahrain Watch and CAAT protest outside the
South Korean embassy, London, on 18 October,
demanding an end to exports of tear gas to Bahrain.
Photo: CAAT
The government of Bahrain has been using tear gas to repress pro-democracy demonstrations since the Arab Spring spread to the Gulf state in February 2011.
A Physicians for Human Rights (PHR) report in 2012 found that 'Bahraini law enforcement officials routinely violate every UN principle' in their 'unusually relentless and indiscriminate campaign… weaponizing toxic chemical agents – so-called tear gas'.
According to PHR, 34 Bahrainis died of tear gas and related complications between March 2011 and March 2012, and a further five people died after having tear gas canisters fired at their heads or necks.
It is not known how many people have died as a result of tear gas in the last two years.
More gas than people
In October, the US-based monitoring group Bahrain Watch leaked a tender document from Bahrain's ministry of interior showing the government's intent to purchase 1.6 million canisters of tear gas. Bahrain has a population of about 1.3 million.
'When we saw this document, we knew we had to act, and find and prevent the shipment, from wherever it was coming from,' said Bill Marczak, a co-founder of Bahrain Watch.
The revelation sparked a four-month campaign, run in conjunction with UK-based Campaign Against Arms Trade (CAAT), as well as Americans for Democracy and Human Rights in Bahrain.
'We looked at Bahrain's main tear gas suppliers at the time, which were a South African company and this Korean company, Dae Kwang Chemical Corporation,' said Marczak. The South Korean company would become the main contender in the deal and the campaign.
Within days of starting, Stop the Shipment launched a website to enable people 'to express their discontent,' Marczak said. Andrew Smith, the media coordinator for CAAT, added that the multimedia campaign was successful in uniting an international campaign.
The site allowed users to send pre-written emails and faxes to, reach on social media, or make international phone calls to over 20 South Korean and South African officials and arms manufacturers. Almost 395,000 emails were sent and about 50 calls were made.
'[The number of calls] may not seem like a lot but it is quite significant when you view it in the context of someone in the Korean export licencing agency getting a call from someone in Bahrain,' Marczak said.
To export a shipment of arms, a South Korean company must seek an export licence from the defence acquisition program. DAPA takes into account international relations, consulting with the ministry of foreign affairs, before awarding licences and has in the past allowed shipments. Stop the Shipment tried to put as much pressure as possible on both agencies during the campaign, according to Marczak.
'The way [the shipment] was stopped in the end was that the DAPA came out with a statement saying: "We received two requests from two different Korean companies to export tear gas to Bahrain and we decided to not grant them the licence",' Marczak said. The other company's name is not yet known.
Beyond the website, the Stop the Shipment campaign included a direct action component. Korean NGOs staged protests outside the exporting agency while CAAT held protests outside the Korean embassy in London.
'The idea was to create something big and visual,' Smith said. 'The arms trade does not like to be confronted in public.' The campaign also worked with international organisations such as Amnesty International to raise global awareness.
'The goal… was to capitalise on Korea increasingly finding its footing on the world stage. As such, the government is concerned with Korea's international prestige and reputation,' Marczak said.
Stop the Shipment brought media attention to the fact that Dae Kwang company had already supplied millions of tear gas canisters and planned to send more to Bahrain, Turkey and other countries experiencing protests.
'Korea can't claim to talk about human rights while it's got this company which is basically a one stop shop for repressive governments,' Marczak said.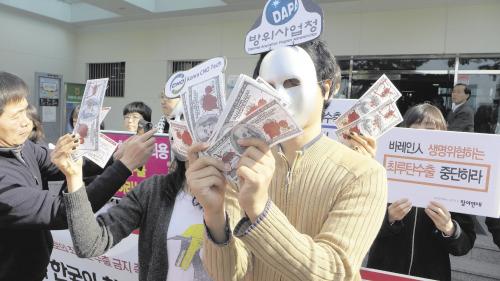 Tactical moves
Originally, the Bahraini government relied on its military forces, armoured vehicles and assault rifles to put down protests, Marczak said. Over time, however, Bahrain switched to utilising its police force, using tear gas and birdshot to quell protests.
'It is much harder to defend your suppression of protests if you've got armoured vehicles and tanks on the streets, because that's a very clear picture,' Marczak said. 'But if you've got police firing tear gas, it is very easy to say, 'Well, we are using non-lethal weapons. There are a few accidents where protestors get killed but… we are doing the best we can to balance freedom of expression with security.' It just allows the government to push its crackdown under the rug, in the sense of people not paying as much attention because it is not as graphic.'
After a month of campaigning, Stop the Shipment added a legal component to their plan, filing complaints against Dae Kwang through the organisation for economic co-operation and development (OECD).
In December, they filed complaints with five UN special rapporteurs, 'arguing that the Bahrain Government's use of tear gas violates the freedoms of association, expression, and movement, and constitutes systematic repression that amounts to degrading and inhuman treatment, and collective punishment,' according to a CAAT press release.
Marczak thinks the campaign's success was due to multiple elements pressuring the South Korean government in different ways. He added: 'And I think legal complaints was a great next step, because it really drove the message home that this was a professional campaign.'
Countries that currently ship arms of any kind to Bahrain include the UK, US, France, Spain, Belgium, Brazil, Germany, and Switzerland. The US, France and Spain have just suspended their supply of chemical irritants, according to an 8 January Amnesty International press release.
'Since the Arab Spring in 2011, the UK has licenced over £30 million-worth of exports [to Bahrain]', Smith said. These shipments included assault rifles, pistols and machine guns. Prince Andrew travelled to Bahrain at the end of January 2014 for Great Britain Week to attend a large arms trade show.
'The reason why Bahrain wants to deal with the UK is because the UK does have a lot of international influence and they want our respectability and [the] endorsement that comes with dealing with the UK,' Smith said. 'The argument we make [is that] in dealing with the dictatorship in Bahrain, we are giving them more legitimacy.'
With the campaign completed, CAAT and Bahrain Watch plan to continue working to stop other weapons shipments to Bahrain and around the world.