Issue

February 2013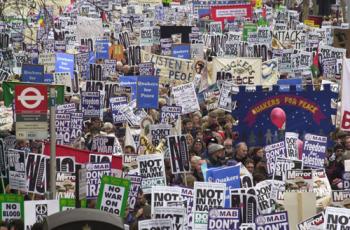 'On this evidence, the big march was shock and awe from the bottom up; it came within a hair's breadth of derailing the warmongers and still shapes our politics today.' Joe Glenton, Afghan war veteran and author of Soldier Box(Verso)
According to polling, over 1¼ million people took part in Britain's biggest-ever political protest: the 15 February 2003 anti-war march in London against the invasion of Iraq. There is a widespread feeling — among both activists and the general public — that the demonstration was an 'absolute failure'.
"I would say that it was not down to any of us activists – the public had motivated themselves."
Phil Steele, Bangor & Ynys Môn Peace & Justice Group
Based on more than 120 original interviews, Ian Sinclair's new oral history, The march that shook Blair, explodes these myths, demonstrating how the 15 February 2003 march had an enormous impact both in relation to the war and more widely.

On the tenth anniversary of the demonstration, Peace News is proud to be publishing The march that shook Blair — documenting, celebrating and analysing the largest political march in British history and the wider anti-war movement.

Here are some selections from the book.
Iraqi voices

Zainab Khan: I am an Iraqi woman who has been living in the UK since 1982. I am a software engineer. I grew up under the Ba'ath government [of Saddam Hussein] and have no recollection of anything else before it.…

Some members of my family and friends were deported, tortured and some were executed by the Saddam regime for many reasons ranging from active political involvement to carelessly saying the wrong thing in front of the wrong people. Some died serving in the many pointless wars since 1980. Some died because of a lack of simple medication during the sanctions years.…

My entire family here in the UK went out on the 15 February march.


Haifa Zangana, Iraqi novelist living in the UK: We walked peacefully. It was a lovely atmosphere. We were all very depressed, especially Iraqis.

When I rang people or Mundher [al-Adhami, her husband] spoke to people saying we were meeting [under Marble Arch] the immediate answer was: 'Why? What's the point?'

War was imminent and Iraqis had no hope. They felt it had been planned for a long time and it was going to take place. So we had to argue, even while we were walking.

Some came because they felt they had to do something regardless of how insignificant it was. They were walking, dragging themselves, as if feeling: 'I did it, but I don't believe in it, and I don't think it will change anything'.


Sami Ramadani, Iraqi political exile and a senior lecturer in Sociology at London Metropolitan University: I was on that great march with family and many Iraqi friends. We made our own placard at home which we felt best expressed our feelings and ideas. On one side we wrote 'Iraqis say no to war' and on the other 'No to Saddam's dictatorship'.

My abiding memory of the day is that of experiencing a roller-coaster of emotions, as we marched and chanted anti-war slogans. They were feelings of extreme elation at seeing so many people saying "not in our name", but also of sadness and anger that Bush, Blair and the rest of the warmongers were bent on war and would not listen, and that the Iraqi people will be facing calamity, after decades of suffering under the weight of wars, dictatorship and murderous sanctions.

Every minute of that day I went through joy, anger and deep pain.


Nadje Al-Ali, academic and founder member of Act Together – Women's action for Iraq: My family in Iraq were anti-invasion – they didn't want another war. But once it happened they were glad. It is quite complex how things shifted....

Most people I knew and spoke to in my research [after the war] had quite complicated views about it. It wasn't black and white. I was demonstrating and I was against the invasion, but I was also asking myself 'What can be done to get rid of the regime?'

It was quite painful to talk to women after the invasion who had felt it could be the way out but now felt really disillusioned.

On the day I felt a sense of people coming together in their diversity. There was something positive and celebratory about it. It did feel good.

British Muslim voices

Asad Rehman, Stop the War Coalition steering committee member in 2003: The first demonstration [against the Afghanistan war, on 18 November 2001] was an important demonstration. Important because we were able to have a lot of influence on how it was shaped. I would say that pretty much laid the foundation for the fact it was more diverse than any other anti-war movement the country had ever seen.

The demonstration happened at the same time as [the Islamic month of fasting] Ramadan, so we went around the Muslim community collecting a lot of food and we did a symbolic opening of the fast in Trafalgar Square in solidarity with the people in Afghanistan.

We made a space at the demonstration for prayer. We got an imam to do a call for prayer off the platform in Trafalgar Square. All big, symbolic things to engage the Muslim community that had never been done before.

Plus we went out and brought the mosques on board and really drew out people and got people engaged. At that point it was about the war in Afghanistan, not the war in Iraq. So that really laid the foundation and laid the groundwork for the diversity of the anti-war movement – one of the marked achievements of the anti-war movement.


Anas Altikriti, Muslim Association of Britain: First of all we had to convince the Muslim community that to come out and be seen as the Muslim community wasn't a bad thing. And that if it was run well, and managed well and done in a disciplined manner, we wouldn't have a repeat of the Salman Rushdie affair, with crazed-eyed youngsters shouting in front of the camera: 'I'm going to kill him, I'm going to kill him!'

The other question was whether we could bring the community to stand alongside people whom they have never had any dealings with....

Wherever I went to a meeting, I wouldn't go alone. I would bring with me an Islamic scholar and someone from the grassroots. So I wouldn't be seen to be speaking on my own whim, but would be seen as someone who had the backing of the community and has clerical backing. It was very, very tough.

Mobilising

Sean Wallis, Stop the War Coalition web manager in 2003: The real turning point in my view was the September demonstration in 2002. This was the first 'mega' demo… and it was bigger than any other demonstration that anyone could remember, at 400,000.

It shocked the police who had only given us half the road, and it shocked people on the demonstration itself just how large it was.

I was stewarding at the back saying: 'Please wait in an orderly queue as you have quarter of a million people in front of you', and people started cheering.


Ghada Razuki, Stop the War Coalition office manager in 2003: It became obvious the demo was going to be enormous in mid-January [2003]. I had come back from Washington where I had seen Jesse Jackson speak, and the phones went bonkers. It was 20-hour days. ...

From the national office 1.5 million leaflets, 500,000 posters, 150,000 stickers and 20,000 window posters were also produced.


Phil Steele, Bangor & Ynys Môn Peace & Justice Group: In the weeks before the February 2003 march our phone never stopped ringing, all day long and into the night.

We were soon aware of a rising swell of public revulsion for the policies and deceit of Bush and Blair. I had never experienced anything on this scale before. Many strangers rang in or stopped by the high street stalls just to talk about it, to let out their anger.

Sometimes a call would start: 'I am an old soldier...' or 'I served in the Second World War…' – I would brace myself for criticism, only to receive warm messages of support....

It was later said that it was the STWC and colleagues in the peace movement who could claim credit for this surge in opposition to the war.

I would say that it was not down to any of us activists – the public had motivated themselves.

What did we achieve?

Carol Naughton, Campaign for Nuclear Disarmament chair 2001-3: It took me about three days to come down from the march. Sunday, Monday and then bam! My adrenaline level just stopped. When it stops you get very, very down. And I did get down when the war actually started.

We did other demos, but it was hard to do them. I found it very hard once the war had started to pick myself up and say: 'You've still got a job to do. You've failed.'


Ellie Mae O'Hagan, UK Uncut activist: The Stop the War march in 2003 was so huge and monumental and it did absolutely nothing.


Milan Rai, activist, author and co-editor of Peace News: If you look at the evidence you can see that the British Government was forced in to a series of retreats.

First of all the scale of the anti-war mobilisation was such – inside and outside the Labour Party – that Tony Blair had to make every effort to get a second resolution at the UN Security Council.

I don't think that was his natural inclination, but politically it became essential for him to try to do that. I'm sure that delayed the war. The US would rather not have waited for that process. So the fight came down to the Security Council in the first place.

Blair never wanted to go to a vote in the House of Commons, but because of the strength of the anti-war movement he had to. You look at the two weeks before that vote and what you find in The Daily Telegraph, The Sunday Telegraph and I think the Sunday Mirror are reports that Geoff Hoon, the Defence Secretary, had to ring up [US Defense Secretary] Donald Rumsfeld and say: 'I'm not sure we are going to win this vote, I'm not sure we are going to be able to join the invasion. We may have be part of the post-invasion occupation forces'.

That's why Donald Rumsfeld said on that day – 'Wobbly Tuesday' – 'we don't need the British for this'.


Sunday Telegraph, 16 March 2003: 'By Tuesday [11 March 2003] there were serious worries in the White House that Mr Blair, its staunchest ally, might not survive the political crisis at home. Geoff Hoon, the Defence Secretary, tried to explain the problems to Donald Rumsfeld, the US defence secretary, in a telephone call which had meant to be devoted to the fine detail of the war plan....

As we reveal today, Mr Hoon's department was frantically preparing contingency plans to "disconnect" British troops entirely from the military invasion of Iraq, demoting their role to subsequent phases of the campaign and peacekeeping….

Mr Rumsfeld confided to one friend: "I am learning to hate the British." However, he decided to give them a way out. Later that day, at a press conference in Washington, Mr Rumsfeld suggested that US troops could go to war without the British, if necessary....

In a second call on his secure telephone, Mr Hoon told Mr Rumsfeld in blunt terms that his remarks were causing pandemonium. "Wobbly Tuesday" was the lowest point of the crisis for Mr Blair.'


Milan Rai: Everybody, including me, thought that was just Rumsfeld being wild and crazy. But he was saying that because he had been told by Hoon that Britain may not be in the invasion force....

If someone was to say the anti-war movement achieved nothing, I think that is plain, flat wrong.

If you are saying we didn't succeed from extracting Britain from the invasion, which was what we were trying to do, that's clearly the case. But I think it is just like the [1984-5] Miners' Strike. At the time [prime minister Margaret] Thatcher and her cabinet had an air of invincibility, which was one of their weapons fighting the Miners' Strike. Years later we find out they were within weeks of running out of coal and being defeated. But they gave no sign of it at the time. And I think it is exactly the same with the 2003 invasion.

The way Blair, the cabinet and the political establishment present it is that all of these ants run around on the streets, but it doesn't affect what they are doing. But actually the ants running around on the streets very nearly brought the British part of the invasion to a halt and very nearly toppled Tony Blair as he himself acknowledged at the time – he said 'I may have to resign over this'.

We achieved a lot, and a hell of a lot more than we realise....


Buying the book
You can buy The march that shook Blair here, or you can send a cheque (made out to Peace News) for £11.50 (inc p&p) to PN, 5 Caledonian Road, London N1 9DY;

For more on Wobbly Tuesday, there is a Facebook event and a website: www.wobblytuesday.org