Issue

February 2013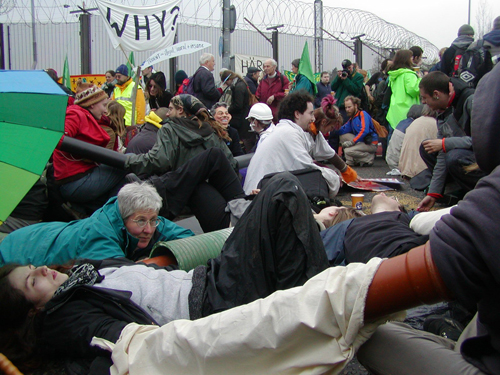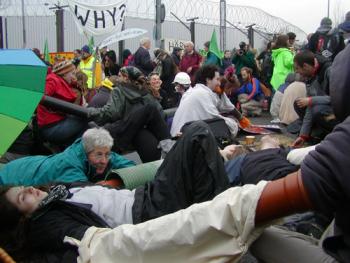 On this day, the Global Day of Action on Military Spending, our intention is to use our bodies to peacefully halt the daily business of preparing for nuclear war. To shut down the UK's most expensive military spending operation!
Our hope is that this will be the beginning of a new wave of anti-Trident activism in Scotland, a new wave that will see new faces hold hands and lay down on the road with those who've been doing this for decades. A new wave that we hope will bring taking action on this issue, once again, closer to the mainstream of politics in Scotland.

The peace movement has begun preparations to take advantage of the opportunities of Scottish independence and the upcoming decision to replace Trident – which are both fast approaching. 'Now' is the most crucial time for grassroots action and mobilisation on nuclear weapons.

Scotland has the power

In Scotland, the potential to force disarmament on the UK is, for many, the defining feature of the pro-independence movement. Earlier this year, the ministry of defence issued an admission that Devonport could not safely host armed Trident submarines. This confirmed the long-held theory of the Scottish anti-nuclear movement that if nuclear weapons are removed from Scotland (in their current form) they have nowhere to go.

The main pro-independence parties, including the SNP, Scotland's current governing party, have enacted policies that would make nuclear weapons constitutionally illegal in an independent Scotland. It seems that, in terms of independence, the political will to disarm is there. What remains for us is to create displays of the will of the people to ensure this political will is given the compulsion to be made an uncompromising reality.

The big plan

Cue 'Scrap Trident! Let Scotland Lead the Way to a Nuclear free World!' Three days of anti-Trident activities in Glasgow and at Faslane, the scene of the crime. On Saturday 13 April, we will gather for a national demonstration against Trident in Glasgow, on Sunday 14 April there will be a day of workshops on nonviolent direct action (NVDA), and all manner of discussions on Trident and connecting issues, with Monday 15 April solidifying our message through a Big Blockade of the Faslane Naval Base.

An impressive coalition of politically-active groups and individuals have come together to organise this event in the hope to create a mass anti-nuclear movement that will not only see us mobilised through the Scottish independence referendum, but beyond.

We need a mass movement insurance policy to create an extra-parliamentary case for disarmament (independent or not) and ensure that we, the people of Scotland, are ready to continue our fight if we do not get independence, or if the independence we do get does not deliver the hardline approach to Trident removal that is necessary to effectively disarm the UK.

If disarmament through independence fails, our next battle will be to stop Trident replacement.

South of the border, the chance of forced disarmament via Scottish independence is being played down, but for the first time in a long time there seems to be quite significant backtracking on Trident replacement. Media coverage of the issue throughout January suggests that like-for-like replacement is not so likely after all.

Even former proponents of the argument that 'we need Trident' are buckling under the pressure to justify spending £100 billion on a replacement programme when government cuts are decimating public services.

This could be the beginnings of a weakening resolve to have a nuclear weapons system on the scale of Trident after the end of its lifespan in 2025. What remains for us to achieve is a grassroots movement to push this weakening resolve further. Cue Action AWE!

With the Scottish independence referendum and the final decision on Trident replacement on the horizon (2014 and 2016 respectively), there has never been a more crucial time for grassroots action and mobilisation on Trident.

Furthermore, if we do not take these current opportunities, we could see Trident replaced and nuclear weapons based on the Clyde for the next 50 years. We implore you to join us at Faslane in April and throw your all into the Action AWE campaign at Aldermaston over the next two years.

Please join us in April in calling for Scotland to take the lead in world nuclear disarmament.