Issue

November 2012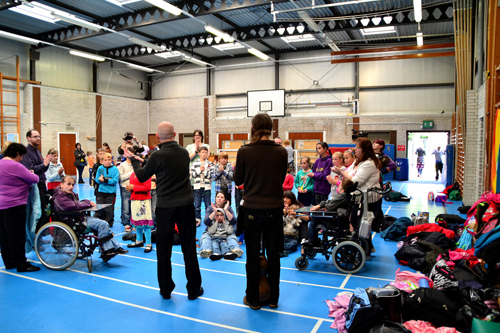 In late September, more than 300 children from 10 schools in and around Wrexham took part in locally-organised 'World Peace Days' focused on peace, conflict resolution and nonviolent resistance.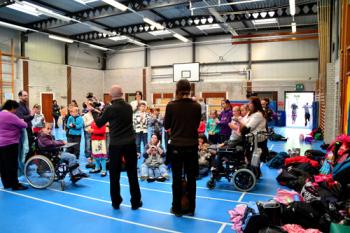 Signing singing lesson during Wrexham Peace Days 2012
Photo: Paul Lowndes
The three-day event (20-22 September) took place in a school on one day and then on the library green. Grassroots activists, musicians, poets, artists, cooks, holistic therapists, photographers and film-makers helped to make it happen, along with teachers, members of faith groups and atheists, and council officers.
The event has grown from occasional peace picnics in Wrexham's Peace Garden (organised by Wrexham Peace & Justice Forum and Wrexham Women for Peace) to a bigger, more collaborative effort.
With reservations about being associated with Peace One Day (sponsored by Coca-Cola) and the International Day of Peace established by the United Nations (responsible for catastrophic sanctions in Iraq amongst other atrocities), we billed our events this year as non-affiliated 'World Peace Days'. 
The events were organised on the principles of gift economy ('open to everyone, free for all and created from our unpaid efforts') by a loose, non-hierarchical network, and was intended to be as inclusive as possible. 
Every school in Wrexham was sent an invitation to bring children to the schools day, as well as information about the other days which were open to all and completely free of charge, from the Give and Take sharing stall to the music, craft activities, shared food, fresh fruit smoothies, information leaflets, holistic therapies, workshops and everything else. 
There was no entrance fee for the evening gigs on Friday and Saturday and all the musicians performed for free.
Peace at school
St. Christopher's School attended last year's event and invited us back this year to hold a Peace Day on their premises and asked all other local primary and secondary schools to join in. 
The day began with an assembly led by the school chaplain, then the children went to sessions in classrooms or in two tipis on the school field. Workshop leaders came from as far away as London, south Wales and Scotland. Topics covered included learning about Sikh seva (selfless service to others) in a cookery session; conflict resolution; children in Palestine and Iraq; how an SAS soldier became a Veteran for Peace; the militarisation of boys; Faslane Peace Camp. 
In the hall there were arts and crafts activities, including singing together (with a signed singing session); painting hands or faces; and decorating your own handshape with your thoughts and images of peace to be added to a collaborative 'Hands Up for Peace' wall display.
In the afternoon, a line of children stood holding up large sheets of grey paper they had decorated with peace messages for children living behind Israel's separation wall, each sheet representing a panel of the wall, each child representing a Palestinian child trapped by the wall. 
The day finished with a simple song, Belle Mama. As each child left, they were given a Hands Up for Peace card inviting them to consider peaceful nonviolent resistance to violence.
Bigger next year?
This is the first time, as far as we are aware, that such a large-scale event with a focus on peace, and involving grassroots activists, has been organised through schools in Wrexham. Some schools have continued to work with children on peace issues and are interested in follow-up visits and activities. We hope that the day will trigger other conversations and peace-related events which continue and build throughout the year. There is talk of every school in Wrexham being actively involved in Peace Day 2013.