Issue

November 2012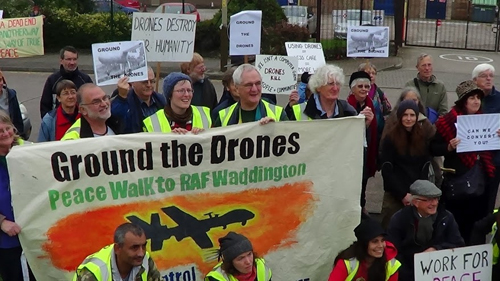 On 13 October, the eight-day 90-mile Drones Peace Walk reached RAF Waddington in Lincolnshire, to be met by campaigners from around the UK, all protesting against the opening of the first armed drone base on British soil.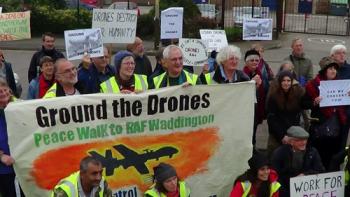 The RAF's pilotless killer drones in Afghanistan are currently operated from a base in Nevada, USA – they will soon be operated from RAF Waddington.
The walk, which was part of the Drone Campaign Network's Week of Action, began at the Elbit factory in Shenstone near Birmingham, where drone engines are manufactured. The walk also visited the Thales factory in Leicester which manufactures the Watchkeeper surveillance/targeting drone.
Penny Walker, walk organiser, said: 'These pilotless killing machines – which have already killed hundreds of innocent civilians in Pakistan, Somalia, Yemen, Afghanistan and Gaza – are fuelling anger and terrorism around the world, endangering us all. They are also paving the way for a future in which robots make "decisions" to kill with no human oversight. We need to take action now to end this new form of remote-control murder.'
The aims of the walk were 'to walk in solidarity with those killed or harmed by drones, to protest at three drone sites, and to talk to lots of people in the towns and villages along the way', according to Penny.
A core group of four walkers, including activist Maya Evans, a co-organiser, were joined along the way by dozens of other campaigners.