Issue

November 2012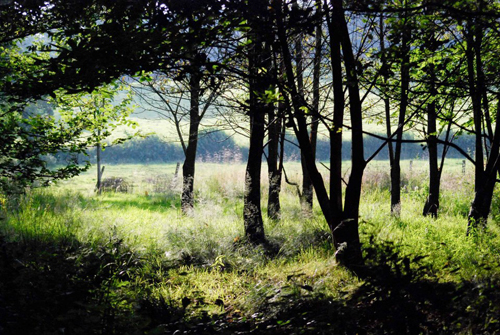 At the end of September, a new local campaigning group calling itself 'Combe Haven Defenders' staged a weekend camp on the site of the proposed Bexhill-Hastings Link Road on England's South Coast. The temporary camp brought together 200 people with a shared concern for saving the valley and a willingness to explore the possibilities for action.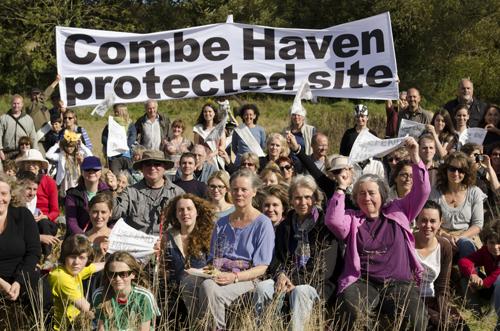 It also attracted a lot of media attention, including the Sunday Times ('Rash of road plans stirs Swampy spirit') and local television news. It cannot have failed to have registered as a significant show of public intent to East Sussex county council.
The camp starts
On the Saturday (29 September), three guided walks brought people into the camp from St Leonards-on-Sea, Crowhurst and Bexhill, and shortly after midday well over 100 people were enjoying a delicious hot lunch and listening to rousing songs from Las Pasionarias choir.
The programme got underway with a welcome from Combe Haven Defenders, including stirring words from our youngest member, Esme, 8, in splendid badger costume. 
Derrick Coffee, of the Hastings Alliance and the Campaign for Better Transport, gave a succinct and passionate summary of the case against the road (see here), and local poet Brian Moses recited two moving poems reflecting his personal experiences of the valley. 
Veteran environmental campaigner John Stewart then spoke on how a road scheme like this could still be stopped, even at the 11th hour, drawing particularly on insights from the Oxleas Wood campaign, and emphasising the need to make the issue a national one, as the 'first and worst' of George Osborne's new roads programme.
The battle of Hastings
The Bexhill-Hastings Link Road (BHLR) originates in bigger bypass plans dating from the late 1990s. The earlier £130m scheme was rejected in 2001 after campaigning by the Hastings Alliance, objections from English Nature, and the threat of direct action. It was resurrected, in truncated form, with East Sussex county council's BHLR proposal which was signed off by the department of transport in 2009. Despite a public enquiry and a number of legal challenges, the project appears to be on track for building to commence early in 2013.
Against this background, in July 2012, local residents decided to form a new group, Combe Haven Defenders (CHD), believing that the exhaustion of the legal process and the imminent prospect of bulldozers in the valley argued for fresh energy and tactics. 
CHD began organising walks in the threatened valley, holding photographic exhibitions and street stalls, and doing local press work. One aim has always been to celebrate and promote nonviolent direct action as a legitimate campaigning tactic, and to build a credible threat of such action. CHD also wanted to work closely with Hastings Alliance, tireless campaigners against the road for more than a decade.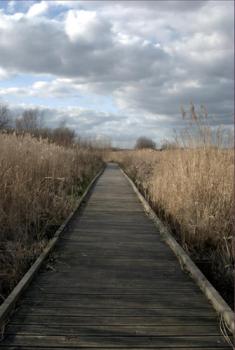 Logistics
In previous years, Hastings Alliance has organised successful 'rally in the valley' events, and CHD decided to build on this tradition with a rally as part of a weekend camp focussing on training, empowerment and strategising. Publicity emphasised that 'unlike the link road planners, we will leave the valley as pristine as we found it'. 
The event was designed to be attractive to a broad range of people. It was recognised that an important step was to enable an exploration of what direct action meant to those new to it and work out all together how it could be used strategically.
Small working groups were formed to co-ordinate logistics, food, workshop programme, publicity, sanitation, police liaison and so on. 
A field kitchen was put together and compost toilets built. Marquees and other structures and equipment were secured through friends and contacts. A promising site was identified on the proposed road route, and alternative sites were lined up in case of problems on the day. 
At 1pm on the Friday, a van swooped down a farm track to be met by a gaggle of willing, eager hands, and in short order gear was unloaded and carried down a muddy track to the site. Marquees went up and soon the kitchen was working and the kettle was on! 
Two police officers appeared, were very chatty, and disappeared never to be seen again. 
The landowner turned up but again left quietly after assurances that the site would be left clean on Sunday. A further van trip brought straw bales and firewood to the site. 
With the camp established, the location was made public via the website. Around a dozen people settled in for the first night in the beautiful Combe Valley, in the company of owls, badgers, wild boar and a bright, full, moon.
On Sunday afternoon, work began to take down the camp, and by 6pm the final items were packed away and the site left clean, as promised.During the weekend, there was an in-depth strategy session with John Stewart, a nonviolent direct action training session facilitated by Seeds for Change, a performance by the Otesha project, flag-making and decorating as part of the Big Draw, a nature walk, environmental story-telling, shadow-puppet making, a photo exhibition and an info stall.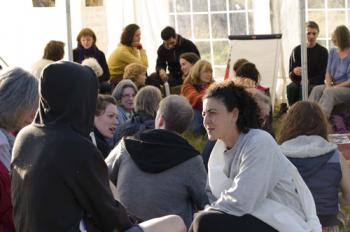 The challenge now is to realise the strategy that has begun to be collectively mapped out, and to bring home the prospect of thousands of ordinary people refusing to accept the senseless destruction of our natural environment and the waste of £100m on a true 'road to nowhere' that just happens to conform to George Osborne's bizarre idea of tarmac-ing our way out of recession.