Issue

February - March 2019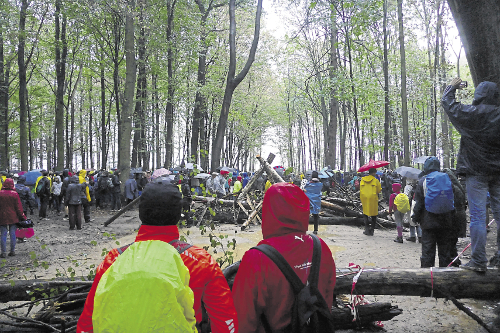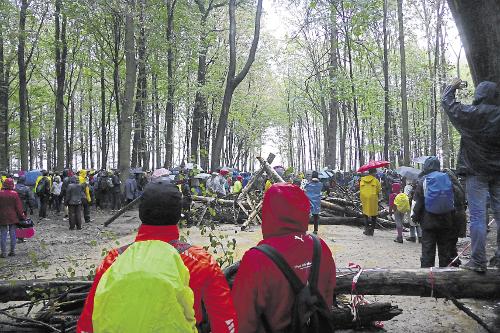 Barricade in Hambach Forest 23 September 2018 Photo: Leuni (CC BY-SA 4.0) from Wikimedia Commons
There is mixed news on one of Europe's climate front lines, as activists have forced a German government commission to effectively rule out further coal-mining in the ancient Hambach forest near Cologne, while setting an inadequate ('disastrous') date for ending the use of coal in Germany.
Coal currently accounts for 40 percent of energy in Germany. In Britain, it's around 10 percent during the winter.
The head of Greenpeace Germany, Martin Kaiser, told radio station Deutschlandfunk: 'The protests with tens of thousands of people in the forest and for the forest were a turning point in coal and climate policy in Germany. And it is thanks to those people that the forest has been saved.'
Annalena Baerbock, the leader of the German Greens, wrote on Twitter: 'This would have been unthinkable without the pressure exerted by environmental and climate action groups as well as by the Greens.'
Most of the Hambach forest has been destroyed since 1978 by a gigantic opencast coalmine operated by energy company RWE. The 40m tonnes of dirty brown coal or 'lignite' produced by the mine every year is burned in two nearby RWE power stations, two of the three biggest CO2 emitters in the EU.
German environmentalists have been carrying out actions in the coalmine and in the forest since 2004. Since April 2012, activists have been living in the 12,000-year-old forest trying to stop it from being cut down.
Partial success, 2017
In recent years, mass actions have been carried by Ende Gelände ('this far and no further') including a 24-hour occupation of coal train tracks by 4,000 activists last October. (PN 2624 – 2625)
The expansion of the mine was halted temporarily soon afterwards by a court order in a case brought by BUND, the German Friends of the Earth.
On 26 January, a government-appointed 'coal exit commission' recommended that Germany stop using coal-fired energy by 2038 (a compromise between the science-based Green demand for 2030 and the industry target of 2050).
The report only said that it was 'desirable' to preserve the Hambach forest, but the reductions in coal power that it called for would seem to rule out any further expansion of the Hambach mine. The commission said coal power should be cut from 42 gigawatts (GW) today to 30GW by the end of 2022, and 17GW by the end of 2030.
Oxfam Germany pointed out that to meet existing German climate targets, the target for 2022 should have been to cut by a more ambitious 20GW instead of 12GW. Otherwise Germany will not meet its commitments under the (inadequate) Paris climate agreement for 2030.
Laura Weis, of 350.org Germany, said simply that the end date of 2038 was 'disastrous'.