Issue

June - July 2018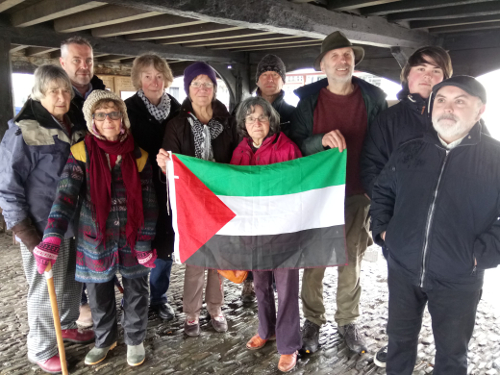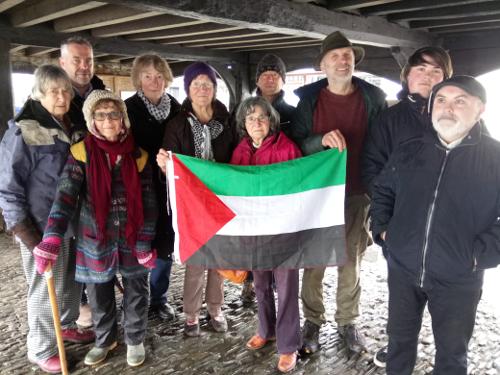 Sawiya Friendship Association's vigil for Gaza in Llanidloes. Photo: Elwyn Vaughan
 
Vigils were held across Wales after Palestinian authorities declared 31 March a national day of mourning. 17 Palestinians had been killed in Gaza as the Israeli Defence Forces cracked down on 'The Great Return March' starting on Land Day, 30 March.
On 31 March, Aberystwyth's street choir Côr Gobaith fundraised for Medical Aid for Palestinians. In Llanidloes, about 20 protesters pinned Palestinian flags and banners to the Old Market Hall on 7 April. Referring to UN Resolution 194 Right of Return (1948), organiser Karin Reitger of the Sawiya Friendship Association reported: 'We had placards saying "How much longer must they wait?"'.
About 100 people took part in the Bangor and Ynys Môn Peace and Justice Group peace vigil held on 9 April. Convener Linda Rogers said: 'Palestinians have the right, under international law, to return to the homes from which they were forcibly expelled in 1948 and in 1967. Some 2,000 Palestinians have collected for a six-week protest. They have been met with tear gas and gunfire. Among the dead are children and a journalist. We are sending out a message of support for the rights of Palestinians.' Arfon MP Hywel Williams called on the UK government to 'not simply remain silent on systematic abuses in the occupied Palestinian territories.'
On 25 April the UN reported 40 Palestinians killed and 5,500 injured, a toll that is rising at the time of writing.