Issue

December 2016 - January 2017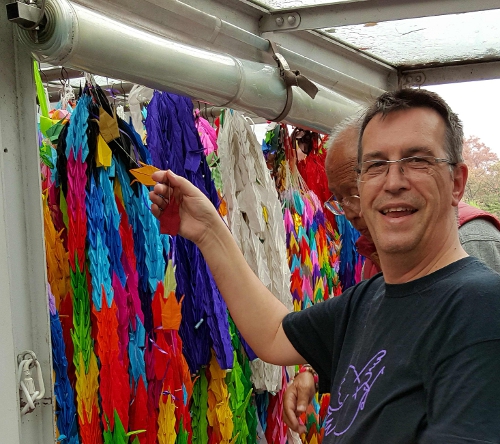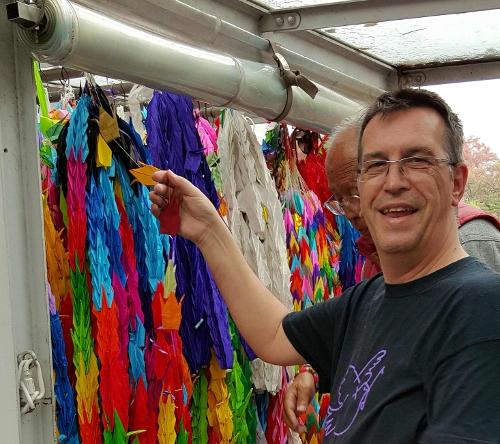 Ian Bell adds peace cranes in Hiroshima. PHOTO: Rory Bell
Aberystwyth and the city of Hiroshima were symbolically linked when a local peace activist visited the Japanese city on 26 October. Wishing for peace and the abolition of nuclear weapons, Ian Bell brought paper cranes from the peace tree in Aberystwyth to The Children's Peace Monument in Hiroshima Peace Memorial Park.
Sadako Sasaki, who was two years old when the world's first atom bomb was dropped over the city of Hiroshima on 6 August 1945, is to this day a symbol of the innocent victims of nuclear warfare. Aged 12, she died from radiation-induced leukaemia, but is remembered through the story of the 1,000 origami cranes she folded before her death. According to Japanese tradition the creator of 1,000 cranes is granted one wish. Sadako's wish was to have a world without nuclear weapons.
The Children's Peace Monument is surrounded by many thousands of origami cranes from all over the world. Ian offered the cranes on behalf of the Côr Gobaith choir, saying: 'I believe all humanity and life is inextricably linked, so took a thread of paper cranes to join Aberystwyth and Hiroshima in a symbolic way. It is my demonstration of a commitment to work for peace and to prevent a repetition of the horror that befell the people of Hiroshima'.