Issue

December 2016 - January 2017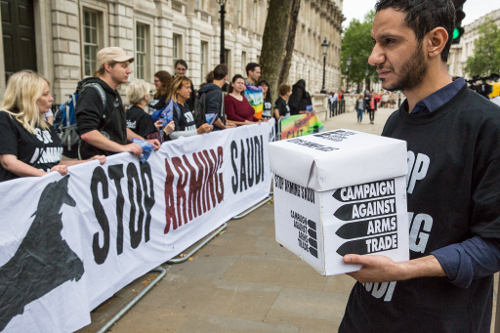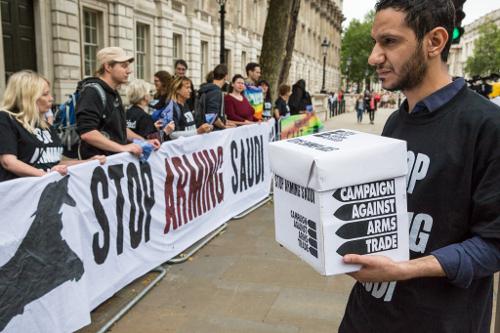 On 11 July, Campaign Against Arms Trade (CAAT) handed in a petition to Downing Street, London, against British arms sales to Saudi Arabia. Photo: CAAT
'No one questions that these people are terrorists, but their presence in that city cannot justify an assault on 275,000 innocent people, still less the imposition of a siege, which is, by its very nature, a wholly indiscriminate tactic.'
These were the words of British foreign secretary Boris Johnson during a speech in which he rightly called for those responsible for war crimes in Aleppo, Syria, to be brought to justice by the international criminal court (ICC).
Where he has been nowhere near as strong or principled is in response to the humanitarian catastrophe that Saudi-led forces have unleashed on Yemen. Since the breakdown of the most recent ceasefire in August, we have seen the destruction of schools, hospitals and a food factory. In mid-October, Saudi forces admitted bombing a funeral in Sana'a, killing almost 150 people.
There is a war
The UK hasn't called for ICC investigations, instead it has provided arms and support for the regime leading the bombardment. Since the bombing began in March 2015, the UK has licensed over £3.3bn worth of arms to Saudi forces, including fighter jets and bombs.
There is a growing parliamentary opposition, with the house of commons committees on international development and on business, innovation & skills both calling for an embargo on arms that could be used in Yemen. Unfortunately those calls have been ignored, with UK ministers working with BAE Systems to sell a new generation of fighter jets.
The government's position isn't just immoral, it is also illegal, with clear and compelling evidence from Human Rights Watch and other respected NGOs that UK arms have been used to violate international humanitarian law.
Next February the exports will be scrutinised in London's high court, following a judicial review application by Campaign Against Arms Trade. This will be the first time that UK arms exports have been challenged in this way and could lead to a historic change in policy.
We are always being told that the UK stands for human rights and democracy, but it is actively pouring weapons into some of the most oppressive and unstable regimes in the world. Nowhere is this hypocrisy clearer than in the case of Saudi Arabia.
As I write this, UK-made fighter jets are being flown by UK-trained pilots and dropping UK-made bombs. It's not just the arms sales that need to end, it is also the hypocrisy and the mindset that has allowed them to happen in the first place.