Issue

December 2016 - January 2017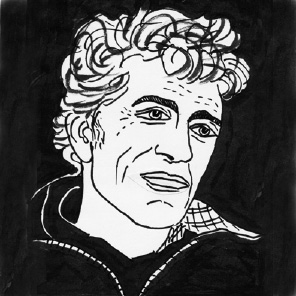 It's a pleasure to write a column printed next to that of Penny Stone. Her commentary and recognition of the power of music, if not to effect change directly but to inspire and energise those working for change, is a welcome relief from bad-news stories.

Anyone who goes to a WOMAD festival cannot help but respond to the ability of its musicians to transcend cultural and national difference. Music really is an international language and so it is a means to achieve peace and universality.

There is, I believe, an undeniable movement towards music that transcends genres and so defies categorisation. This must be a good thing and Leonard Cohen's album You Want It Darker – and sadly his last as it's turned out – is a fine example. Just drop in anywhere on (say) its profound first track with the same title and you'd be hard put to describe exactly what kind of music you're hearing. And this applies to many of the tracks on this truly beautiful piece of work.

Which brings me to the work of my friend the pianist and composer, Mike Adcock. When we both lived in St Albans I was in a couple of his bands: The Lemon-Pop Band and The Last Dance Band. The Last Dance Band was just that: we played dance music from around the world. Mike is a versatile musician and in this band he played guitar and accordion as well as piano and in his other bands – among them the wonderful Accordions Go Crazy – and and as a side-man in those of others, he's also played/plays electric keyboards.

On his latest CD, Wanderlust, featuring his band of the same name, he's as eclectic as ever. He's written everything on it except the traditional Norwegian tune 'Nøkkendans'. Actually this tune – with beautiful cello played by Beth Porter – fits so well with everything else on the record it could have been written by Mike too.

Overall his music here is gentle and quite contemplative but if pressed I'd say it often shows a strong South African influence. I mean by that – and tin whistles played by Clive Bell and Steve Rowley contribute – that it has the flavour of so-called Township Jazz. This music (sometimes known as 'Kwela' in the 1950s) and that of the celebrated South African pianist Dollar Brand (now known as Abdullah Ibrahim) is present on many tracks and there's some rare and fiery free-improvisation by Chris Cundy (soprano and tenor saxes, bass and contra bass clarinets) on the final track 'Another Way'.

But there's a lot more than jazz going on in Wanderlust and the discreet drums of Paul Arthurs and the double bass of Graeme Owen nudge in the direction of blues, soul, and gospel music as well. However, it is Mike's subtle time-signatures and insistent and insidious repetition which hooks me to Wanderlust. He even manages to incorporate Miles Davis' famous two-note riff from 'So What' into 'From the Man'. And, as ever with his music, Erik Satie's piano is subtly in there too.

This isn't a jazz record though, any more than 'Nøkkendans' and tin whistles make it a folk record. And for me, like much of Mike's music, these compositions are songs without words; they are truly international in sentiment and, no matter to whom or where, they're recognisable, This is music to heal, not to inspire conflict. Mike told me recently he sometimes goes to Quaker meetings and is it too fanciful too suggest that there's a hint of it here?

I warmly recommend Wanderlust to PN readers and the sleeve photograph by Mike's daughter Hanna of horses crossing a plain in Kyrgyzstan somehow represents its reflective music perfectly. I hope Fiona Talkington on Radio 3 and Cerys Matthews on Radio 6 get around to playing some of it. It deserves to be heard widely.