Issue

September 2013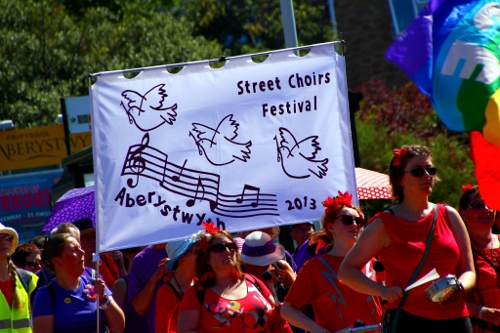 The Street Choirs Festival (19-21 July) saw some 36 choirs with 700 choristers from across the UK descend excitedly on Aberystwyth. Local choir Côr Gobaith had been planning the festival for the best part of a year, taking as its theme 'peace'.
A Friday welcome concert with local and national talent included Chocolat, Sianed Jones, and Tracey Curtis.
Saturday saw a Peace Parade from the Arts Centre to the seafront, where all the choristers took part in a massed sing. In the afternoon, all the choirs busked around town, raising money for charities. The evening featured a marathon concert with all the participating choirs.
The festival rounded off with a Sunday morning of diverse workshops.
Glorious weather and enthusiastic street choirs combined with a friendly and welcoming town (with the exception of some visiting motorbikers, who were very politely told to get on (or off) their bikes by 700 singers), plus the amazing Aberystwyth Arts Centre venue, all made for a great weekend.
A real highlight was the presence of CND legend Bruce Kent, who opened the festival and held a 'Scrap Trident' workshop – and was an enthusiastic participant throughout the weekend.
Another highlight – and important outcome – was the start of a campaign choirs' network. It is still taking shape as we go to press – so far it is an email list and a website.
Inspired by joint street choir singing during the October 2012 anti-cuts march in London, the mission is to share campaigns, skills and songs and provide a platform for support, not only for choirs but for the wider community of activists and campaigners. Already, some network members were planning to meet and sing at the Reclaim the Power/No Dash for Gas camp in Balcombe.
Exhausted but exhilarated, all the members of Côr Gobaith felt the festival had been well worth all the effort!