Issue

September 2013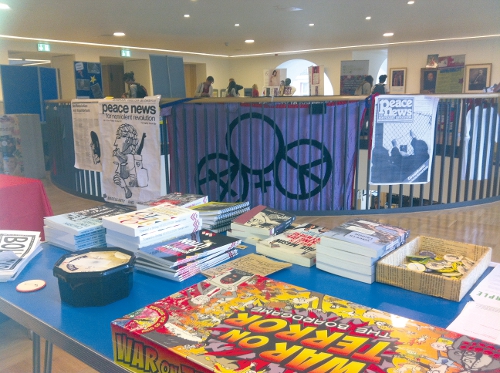 The artist Rachael House has a project where she encourages participants to draw 'what a feminist looks like' on paper plates. At the UK Feminista Summer School this August, there was a delightful variety of over 500 feminists for inspiration.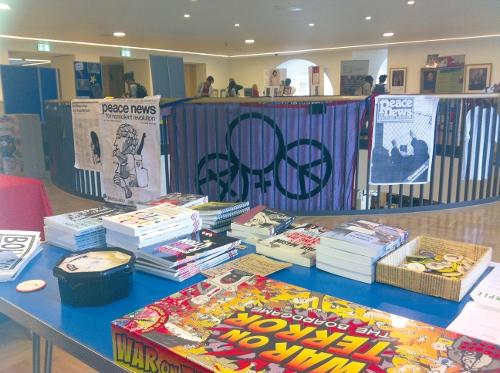 The conference was held on the Birmingham University campus, and that might have been why the participants were predominantly younger women, and why the tone of the event was gently academic, but older women, women of colour, working-class women and men were all represented in the main auditorium of the beautiful Bramall Music Building.
The first session I attended was a two-hour nonviolent direct action workshop led by Jo Melzack of Greenpeace and Kira from Disabled People Against the Cuts (DPAC). Many PN readers will be familiar with the exercises and role-playing games we practised, but it was the first time for me. I was particularly interested in how participants chose to place themselves on a scale of how acceptable certain kinds of behaviour were.
While preparing the PN stall earlier that morning, I'd read an essay from 1968 by feminist pacifist Barbara Deming which talked about 'the violence of the status quo' and the need to learn 'to be aggressive enough' – or 'assertive nonviolence'.
That essay informed where I chose to stand on the line.
Jo also showed us how to make an effective seated blockade, and Kira elaborated on these tactics in her presentation about DPAC actions, showing how people with disabilities of all kinds – not just wheelchair users – can actively engage in a blockade.
I also attended a panel discussion about feminist economic activity, chaired by Nadia Idle from War on Want (and co-editor of the book Tweets from Tahrir which she signed for the PN stall). The last speaker, Ruth Pearson from the Women's Budget Group, presented a delicious proposal for a feminist economic policy – re-establishing Sure Start as well as a 'Sure Finish' (care for the elderly, not euthanasia) – and funding the social gains by higher taxation for those earning more than £70,000 and getting rid of Trident.
Back at the stall, we handed out about 400 copies of PN over the day and encouraged women – including young feminists who were still at school – to consider contributing articles. Here's hoping for a wealth of feminist agendas to counter the impact of austerity!