Issue

September 2013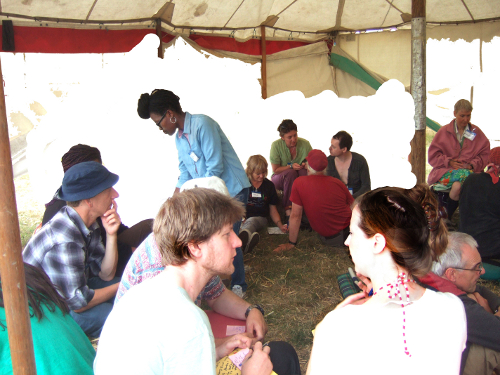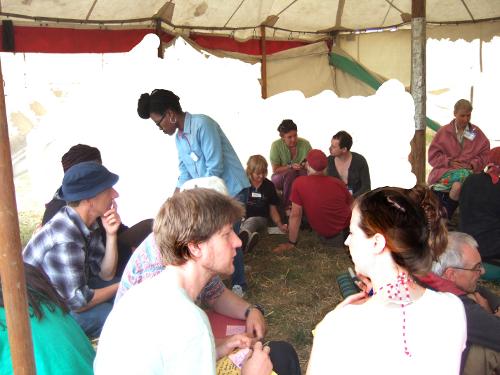 This year's fifth Peace News Summer Camp was a satisfying, at times electrifying, five-day experience, bathed yet again in good weather and good humour.
The camp broke new ground in a number of ways. We moved to a new venue (in Diss, Norfolk); we invited international speakers for the first time (flying them in from Colombia and Egypt); we had an almost entirely new organising group, composed entirely of people of colour; and our presenters were mostly people of colour for the first time.
The stars of the show were our international speakers Dora Estella Muñoz Atillo (of the Nasa people in Colombia) and Mohamed Moghazy (a key grassroots activist in the Cairo social movements); and our Saturday night entertainer, British Nigerian singer Tayo Aluko, who brought the house down with his illustrated talk/song cycle, 'From Africa to the White House' (which spared no punches in describing the failings of the Obama administration, while celebrating the fact that a man of African descent had been elected president of the USA).
Dora explained the situation of the indigenous Nasa people in Colombia, their vision of society and the world, and their adoption of nonviolence in dealing with the military, the right-wing paramilitaries and the left-wing guerrillas. Mohamed explained the intricacies of how the revolutionary movement in Egypt was set in motion (when no one believed that change was possible), and how the movement succeeded by recruiting everyone possible, including criminals and former Mubarak enforcers. We were greatly indebted to Alice Guthrie for translating for Mohamed, and to Anna Lau, Yolanda Juarros-Barcenilla and Katia Valenzuela Fuentes for translating for Dora.
Together, Dora and Mohamed passed on many lessons from their struggles, and helped us to make a reality of the theme of the camp: 'Taking a Lead from the Global South'.

Power and privilege
The camp organisers decided to make a four-hour whole-camp workshop on oppression the centrepiece of the camp. The workshop was designed by Daniel Hunter of the US group Training for Change, with input from Oyinlola Okolosie and Rashné Limki of the UK group Black Feminists. It was Lola and Rashné who led the two-part 'Power and Privilege' workshop on the Saturday (brilliantly), stirring up a lot of thoughts and self-discoveries. Some of the reflections on the workshop, from the workshop evaluation forms, are elsewhere on this page.
We had brilliant presenters at the camp, and one thing that happened a lot was the forging of South-South connections. Mohamed and Dora started sharing one-to-one from the very beginning. Mohamed was very enthusiastic about going to the 'Iraq Today' workshop led by Haifa Zangana and Munder Al Adhami. Our speaker on Pan-Africanism and on global ecological justice movements, Kofi Mawuli Klu, was equally keen to forge links between activists in Egypt and Ghana.
There isn't space here to list all the other brilliant workshops – the programme is still available on the Summer Camp website. Two speakers weren't able to be there – one because she was getting over being ill; the other because she'd been kettled by police while attending an anti-racist demo in Croydon that morning!

New organisers
The organising group for this year was almost entirely new, with only me left on from the previous group. It was said by one organiser of herself, and I think it was true of most of the people of colour who joined the organising group, that they would have been reluctant to join a predominantly white organising group, especially in a tokenistic 'we are improving diversity' kind of way.
The new group did have a lot of support from the previous organisers, in terms of handing over contacts, task lists and timelines. That helped a lot with the unavoidable problems of almost completely changing over the people involved. There were people who were afraid that the wholesale turnover could be disastrous or damaging for the camp – it didn't turn out that way.
The new group brought fresh vision, new skills, new language and a host of new connections (including that with Dora).
Funnily enough, the overt prejudice I noticed the group encountering was ageism rather than racism.
All the new organisers were under 30; three were 18-year-olds, and one of them, Sonia Tailor, was the very able co-facilitator of the morning admin meetings.
She was asked if she wasn't too young to be an organiser!
The Welcome Tent, the Children's Space, and the overall coordinating group, were all run by people of colour, in addition to the advance work done by people of colour in contacting speakers, fundraising, putting out publicity, maintaining the website, getting hold of marquees, arranging WiFi for the field, and the many other tasks behind the scenes.
I personally learned a lot from working with the new group, and I'm very glad to have worked in a people-of-colour group to deliver such a wonderful camp.
Declaring peace
I'm really looking forward to next year's camp! It was agreed at this year's camp that it will take place 31 July – 4 August 2014 (we hope to be able to announce the venue next issue), and the main theme will be issues arising out of the First World War centenary. We hope to involve people from other European countries – invite your friends! The camp will finish on the anniversary of the day Britain declared war on Germany – a chance for us to declare peace.
What I liked about the Power and Privilege session (from campers' evaluation forms):
 Absolutely brilliant. Presenters especially brilliant.
This whole issue – more of it! Very rich discussion & exchange, especially coming out of the sweetie game. Really loved & grateful for the openness & accessible tone & demeanour of the leaders – it felt like a genuine invitation to me to explore/enquire into my power and privilege in ways that could be fruitful & I took the invitation! Thanks!
The Sweet Game. Focussed my own thinking & reactions to working on a task within a random group: how to work with inclusion in more strategic ways.
Excellent facilitation, diverse content, game.
Awesome – great knowledge & delivery!
The game brought up a lot of interesting & difficult points. I found the discussion following it really useful. 
Just that it happened & the topic was brought/is being brought to the table.
What could be improved:
Perhaps the time keeping to allow more exercises & less discussion (where similar points come up).
More time in the afternoon session to explore how to target racism in our everyday & activist spaces. The role-play was good but would have been good to have more examples... but time flies!
More time! Less tiredness!
We did not at all get to explore white privilege, which was reiterated throughout and permeated especially the second session. 'White' didn't seem to be a colour, and I didn't find the denial of race and the fact that this wasn't challenged helpful or constructive.
N/A. Well done, excellent team work & co-facilitation.
I had played the morning sweetie game before, so did not personally learn anything much new. I would have preferred a greater variety of exercises.
Written instructions help me as I'm slow at taking in aural info. Some of the language & terms used needed explaining – were over my head, some sociology jargon.
Other comments:
Thank you!
Very articulate & clear synthesis & summaries of people's comments.
Loved it!