Issue

July/August 2013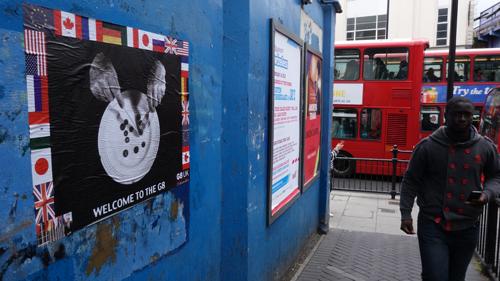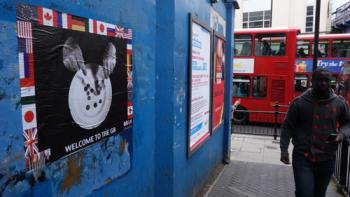 British artist Peter Kennard responded to the G8 summit in the north of Ireland with a series of protest posters that he encouraged people to download and paste up wherever they saw fit – this poster was in Hackney. Some posters were stuck on the walls of
A group named Stop G8 occupied a former police station on Beak St in central London to be the convergence centre for their 'Carnival Against Capitalism'. 
On 11 June, 100 police officers broke into the building, removing demonstrators who had been squatting in the station.
'It's clearly undemocratic. This really smacks of restricting the right to peacefully protest,' British protester Phoenix told Sky News. 'It's not dangerous. It's not violent. It's a peaceful protest.'
A video captures a man allegedly attempting to jump from the building's rooftop. He shouted at police officers and ran towards the roof's edge.
Officers tackled the man, giving him a bloodied head and sent him to hospital.
On 18 June, police officers forcibly arrested 57 people and injured hundreds at an anti-G8 demonstration in London's West End.
Video footage of the protest shows officers using excessive force on demonstrators.
Demonstrators in Northern Ireland held a series of peaceful protests leading up to the G8 summit, which had 3,500 officers deployed to quell protesters.
Blockupy
On 1 June, anti-capitalist demonstrators in Germany were met with force by police officers and 45 were arrested in Frankfurt during a Blockupy protest.
Activists representing various European countries blocked access to the European Central Bank and to Deutsche Bank headquarters, to protest against the banks' involvements in the European debt crisis.
Despite the fact that the demonstration had been authorised in advance, and despite German laws protecting the rights of demonstrators, police officers responded with violence, using pepper spray and surrounding protestors in a 'kettle' for hours.
'This is scandalous,' said Blockupy spokeswoman Ani Diesselmann. 'The route was approved by several legal institutions.'
The economic crisis has left almost a quarter of European youth unemployed. For Spain and Greece, youth unemployment has risen above 50 percent.