Issue

September 2012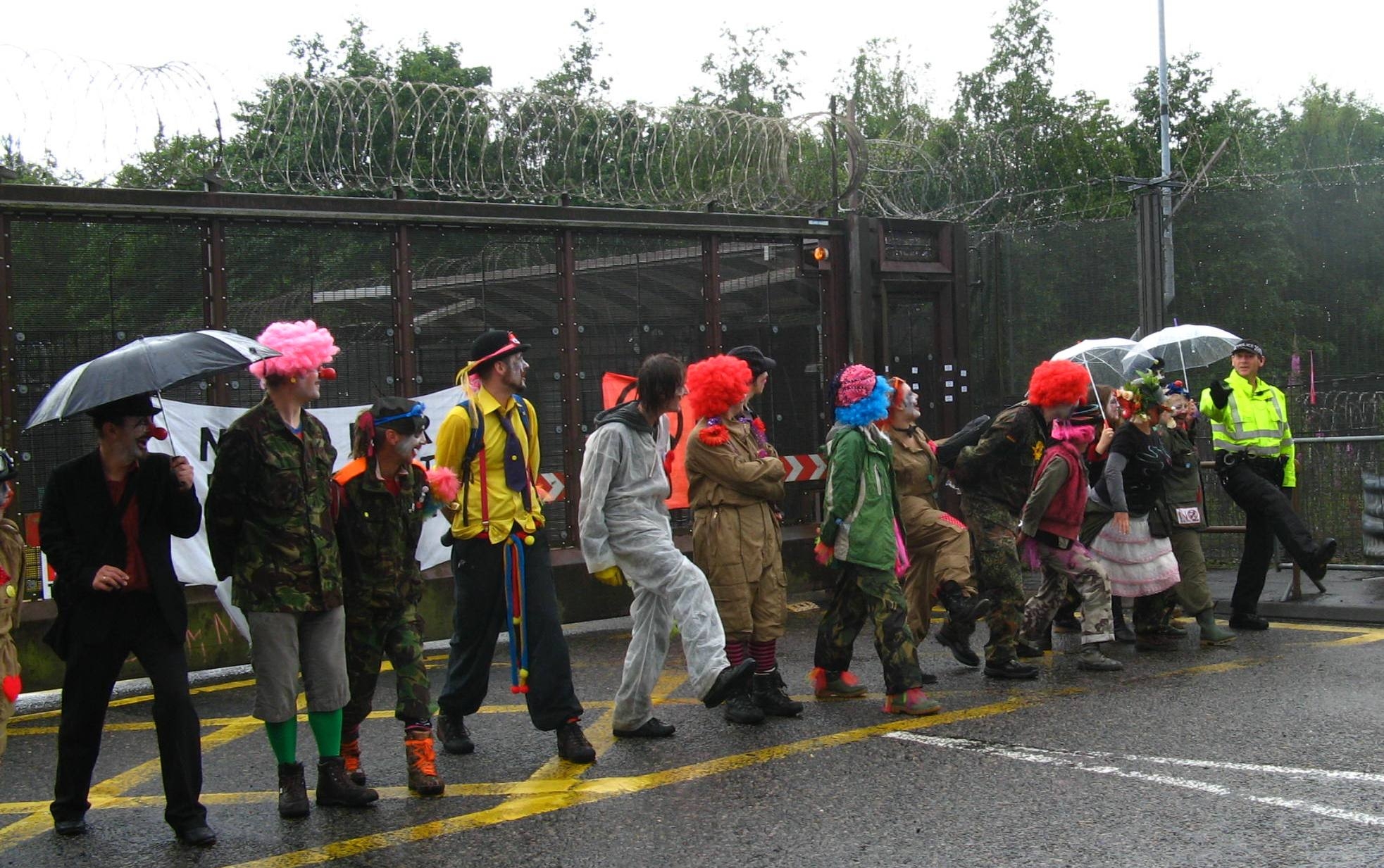 With the help of their Glasgow Kiss friends in arms, the ever-wonderful Faslane Peace Camp people and friends, the newly-expanded Lampeter gaggle of Byddin Boncars Clowniad, the Welsh Rebel Clown Army, closed Faslane nuclear submarine base for five hours on 7 July as part of the Faslane 30 campaign to blockade the base for 30 days to mark the 30-year anniversary of the Faslane Peace Camp.
The action followed hot on the heels of the previous day's academic blockade, where academics made presentations on different aspects of weapons, war and peace, some also sharing personal stories of choosing peace over lucrative science careers related to weapons development.
Warned by the Daily Express that 'GANGS of anarchists – including the notorious Rebel Clown Army – are planning a summer of disruption in Scotland for the 30th anniversary of Faslane Peace Camp', the crafty base had closed the north gate and operated through the south gate.
Of course, the equally crafty Rebel Clowns and their supporters straight away charged the south gate and continued to party, play games and tease the armed guards.
Operations had to be extended to close the cunningly re-opened north gate – an extraordinarily easy task since the police immediately fled, surrendering power, and the base was declared Rebel Clown territory.
It was closely guarded by the Clowns with some help from the police department of silly walks, as evidenced from the photo intelligence obtained and reprinted with the permission of Miss FIT of the clown Forward Intelligence Team (look closely at the end of the line of guards!).
When a police car did turn up, Rebel Clowns took immense pleasure in kettling it, though they subverted the term: 'To teapot' is the new big thing in crowd control! Since nobody seemed to be quite sure what to do with it, the base was eventually auctioned off for a bag of party balloons and some pocket fluff.