Issue

September 2012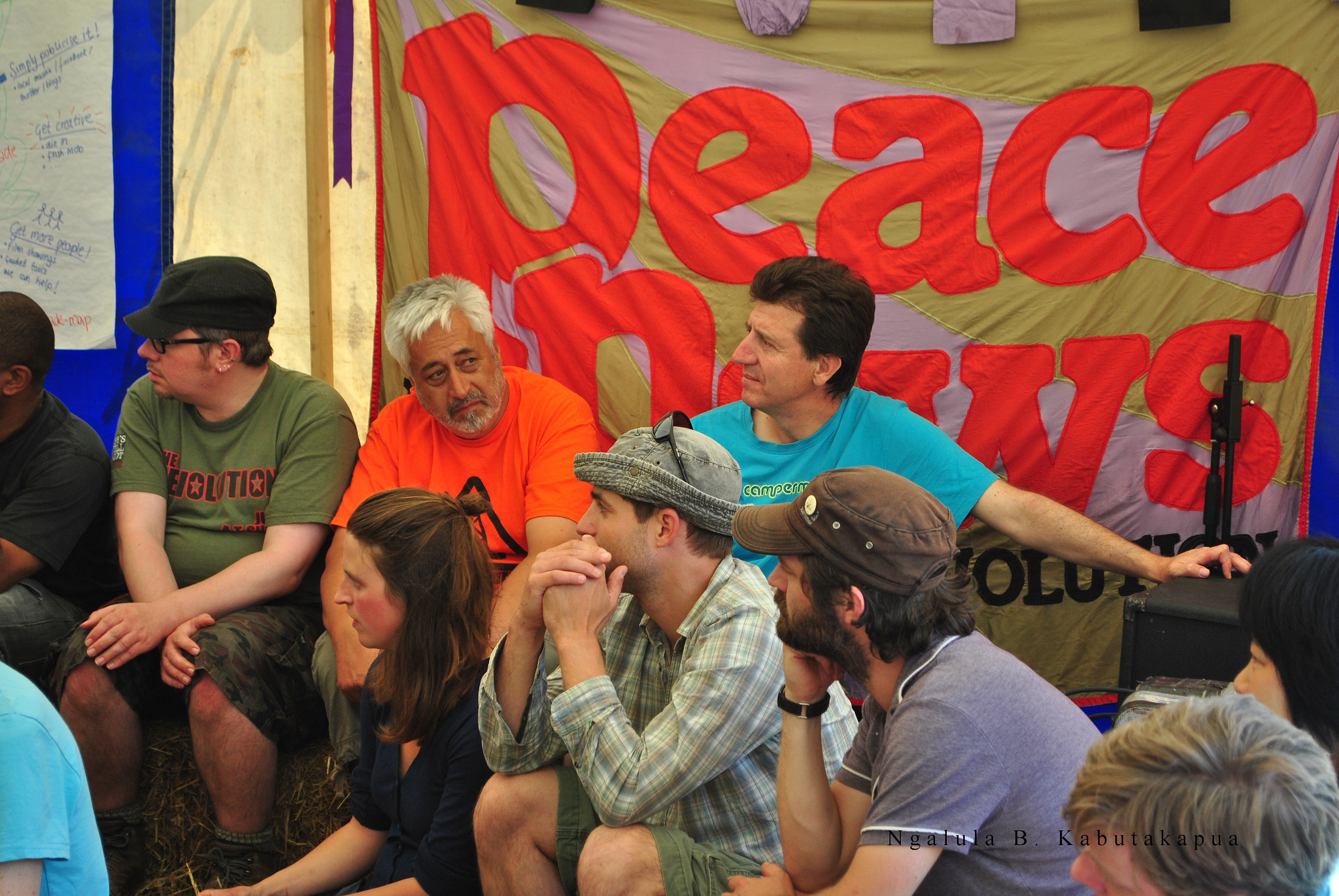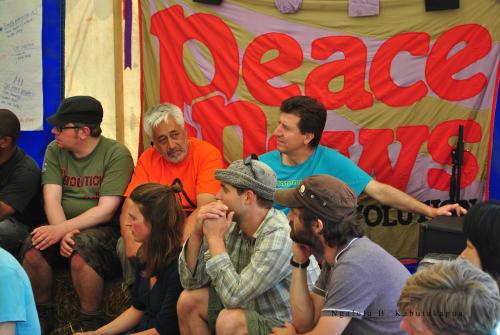 Considering nonviolent revolution at the PN Summer Camp. PHOTO: Beatrice Kabutakapua
This year's Peace News Summer Camp was, as promised, bigger and better than ever before. The skies cleared and the ground dried out to give us a gloriously sunny five days (26-30 July). Mysteriously, the heavens opened after our camp, raining on the Earth First! Summer Gathering, which came immediately after us, also at the wonderful Crabapple Community.
We had over 220 people attending over the five days  including children, a much larger turnout than last year. The day-long 'Nonviolent Revolution' workshop run by George Lakey and Kathryn Tulip (of Seeds for Change) had 100 participants, our largest-ever session. (We had to run other workshops in parallel to the session, to reduce the numbers!) We ran George ragged, as he contributed to four other sessions during the camp as well as innumerable one-to-one conversations. (We all look forward to seeing the memoirs published, George!)
Other contributors to workshops included: Bicycology, CAAT, Climate Justice Collective, CND, ForcesWatch, Jubilee Debt Campaign, the London and Oxford Catholic Workers, Platform, Rhizome, Smash EDO, Traveller Solidarity Network and our brilliant caterers, Veggies.
Evaluating the camp
52 whole-camp evaluation forms were returned. Here are the average approval ratings for different areas, and some comments from the forms.

Location: 8.8 out of 10.
How the camp was run: 8.7.
Children's space: 8.3
Overall content (entertainments): 8.2
Overall content (workshops): 8.1
The food: 7.8
What I liked about Peace News Summer Camp:
'Workshop programme was varied and interesting. Warm and friendly atmosphere. Wonderful to watch people come out of their shells and make friends. INCLUSION.' 'George Lakey. Older people are respected for their experience and wisdom. Subjects of camp. Staff of Peace News. Making friends / friendliness.' 'Lack of ageism and lots of inter-generational respect. Top-class workshops, very approachable atmosphere. The organising team seem super-sorted. Great idea not to make camp-wide decisions.' 'These five days are the best relaxation I can imagine as a complete break from my daily life. Everything I want from a holiday is included – delicious food, congenial company, and learning new things which are really important in the world and to the world.' 'George Lakey stuff, overall theme of camp (nonviolent revolution). Some of the organisers, but perhaps not all.' 'Astronomy and telescope on Friday night.'
What could be improved:
'Only small things.' 'Encouraging the workshop facilitators to be conscious of gender, race and class issues of contributors, to avoid dominance of white, male, middle-class speakers in many / most workshops. Perhaps a bit of positive discrimination may sometimes be warranted?' 'I would have appreciated some element of skill-sharing but maybe that is for another camp.' '(1) I still feel the catering could be improved and better-organised. It was almost always late. (2) I felt the main workshop on nonviolent revolution was too "bitty" and didn't have much "meat" on it. This was disappointing. Concentrated on "mind stuff" too much.' 'Children's space – could we have more things to climb. NO stinging nettles please.' 'Lighting on "pathways" in camping areas.' 'Site shower.'
Other comments:
'You are all invaluable and delightful!' 'Don't like rating workshop presenters – what about rating participants?' 'Thank you for letting me avoid the Olympics! :)' 'I really enjoyed my first Peace News Summer Camp. Thank you very much! I would like to come back next year and contribute more.' '10/10 – thank you! Life-changing.' 
Next year, all change
Next year's camp, pencilled in for 25-29 July, will be organised by a new organising group, composed of people of colour (see Mil's article pn pp8-9 of the print issue).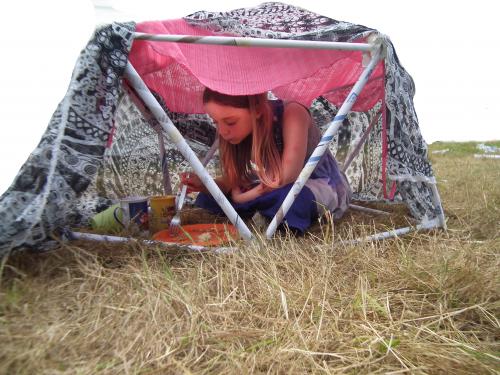 Geodesic domes for small people made out of old copies of PN. PHOTO: Emily Johns
Michael Randle video
One treat at the camp was a talk by former PN staffer and well-known author and activist Michael Randle. In a talk now available online (filmed by longtime PN board member Andrew Rigby), Michael talked about the early years of the nuclear disarmament campaign in Britain, and how from tiny seedlings a mighty movement grew. Video available at: http://peacenews.info/blog