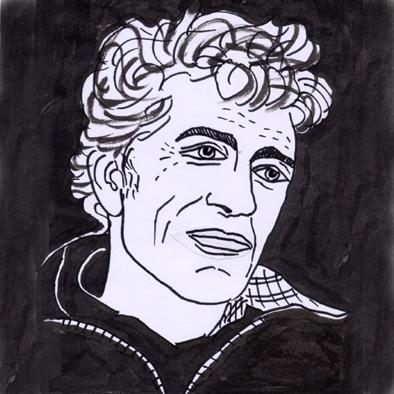 My headline's a distortion; a Peace News Summer camp is nothing like Maplin's television idyll; Maplin's was entirely devoted to having a good time and didn't fret about moral purpose.
Hang-on though, I've just come back from this summer's PN tented rave-up and a good time is exactly what I had. Of course, there was a fair bit of fretting – and purposeful and well-aimed it was – but we all deserve a good time from time to time and it's arguable whether shared angst is better for the soul than collective high jinks. I got a dose of both and came back feeling rather better than when I went.
Dennis Gould and I came up from Stroud by train, cycled the five miles to Crabapple Community and arrived at noon on Saturday. We left at 3pm on Sunday and, amazingly, by the time we got back we felt as though we'd been away for a week. The weather was perfect; a great aid to happy camping, although the one night I spent there – I squatted in the 'healing' yurt – was freezing. I awoke cold and healed, so to speak; but by 8am was in the grip of conversations with a bevy of interesting and talented persons I'd never met before.
A confession: I'm not much of a one for workshops. Chance meetings, discussions about bicycles and music, travellers' tales, shared grub, trading poems and broadsheets for love or money or company, is more my line – and Dennis's. The inviting spread of his hand-printed postcards, posters, and pamphlets, on the camp site grass, attracted immediate attention and is, I insist, a discussion workshop in itself. Thus, there were always a few campers sitting with us and their company was a delight.
As we cycled to the site, we were charmed to pass a rural cottage with a tall flagpole in its garden flying a bountiful Jolly Roger. A child's fantasy we wondered or an anarchic statement? At the reception booth at the campsite gate we were met by an amiable cove wearing a black T-shirt also decorated with the skull and crossbones and bearing his name: 'Evil John'. I felt welcome immediately. And the now-ubiquitous yurts dotted around the site were a reassuringly familiar presence; as were some of the campers.
There are not so many old friends around these days but they bob up at PN camps like apples in a dipping bucket: PN editors and staffers of course, faces dimly remembered from past festivals and demos or even from the PN camp of 2010. People I couldn't remember who claimed to know me: people I claimed to know who couldn't remember me: people I'd never met before but whom I'd like to meet again at next summer's camp: busy inventive free children up to their tricks and japes wherever I looked.
As for workshops, I did listen to the measured and admirable George Lakey and a young bloke from Syria who wrestled with his feeling that sometimes some violence was necessary to save the innocent from state violence. I met Simon who'd lately cycled back from Australia and felt that political leaders and the likes of Charles Windsor and Jonathon Porritt were not beyond redemption and were too harshly judged by people like me.
I met a woman who had once worked in Tanzania and felt herself re-energised by the life of the camp. I met 'Jan Derby' – 'that's how I'm known, I'm actually Jan from Derby' – who discussed poetry and peace; and I met playwright and actor, Alison Playford, whose first play has lately been staged at the Theatre Royal Stratford where Joan Littlewood made history with  Oh What a Lovely War. Maybe she too is bound for glory. I met the son of Ernest Rodker — a chip off the block. Ernest's tireless and inspirational campaigning for peace and for justice for Mordechai Vanunu has been an influence. And then there was that celebrated ex-convict for peace, Michael Randle, with his peaceful accordion and Patrick from Bicycology keeping the site running with alternative energy.
On Saturday night, Dennis and I performed poetry at an impromptu show together with – among others – the Clarion Choir from Birmingham. The choir turned out to be two blokes (the other choristers being back in Brum) who did a rousing turn with their own and 'movement' songs.
A good do this, with an enthusiastic audience and then a mass retreat to the 'pub quiz' held in what would have been called in my mum and dad's day, the beer tent. Here, impromptu teams were fed fiendish questions like 'what's the flying speed of a swallow?', amid much shouting, hilarity and disbelief. For those with a bit of energy still left, there was campfire singing and the chance to warm our frozen shorts-wearing legs before sleeping bags beckoned.
Oh, and the abundant grub served with good humour and grace by Veggies was terrific. Next year I hope to go for the full four days. See ya there peaceniks?
Hi-de-hi!