Issue

June 2012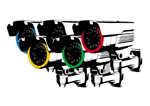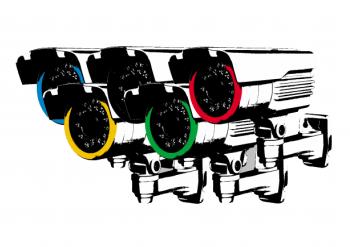 With the Olympics almost upon us, a small but increasing number of individuals and groups are openly dissenting from the official line despite the mighty power of the games and the interests around it.
With numerous concerns around corporate ethics, repression, environmental degradation, social justice, militarisation, local democracy, and elitism, there is something for everyone to be active on.
Many of the big corporate sponsors come with a package of controversy attached. Greenwash Gold will be awarding medals for the sponsor causing the most environmental destruction. Rio Tinto, Dow Chemicals and BP are serious contenders but Adidas, Coca Cola, BT and G4S are among those in the running. A coalition of unions and NGOs have come together under Playfair 2012 to call for a sweat-free olympics to live up to the 'respect for universal fundamental ethical principles' enshrined in the Olympic charter.
More locally, campaigns against the take-over of common land may have found little success against the heavyweight Olympic organising committee (LOCOG) but they continue to build awareness and work on ensuring that promises to restore land for public use are made good. A family friendly day of alternative Olympic events is being planned by the Counter Olympics Network for 28 July.
Not playing ball
In early May, Simon Moore became the first person to be given an anti-social behaviour order relating to the Olympics after being arrested at Leyton Marsh. The ASBO prohibits him from going within 100 yards of an Olympic venue or route, obstructing any participant, going onto any private land without permission of the owner, and from disrupting the Jubilee or Olympics events. 
Similar bail conditions were given to Mike Wells, who writes for GamesMonitor.org.uk. Mike was filming unsafe working practices of excavators at Leyton Marsh when he was assaulted by the driver and brutally restrained by bailiffs. After treatment in an ambulance he was arrested by police, held and later transferred to Leyton custody centre, a facility specially built for the Olympics. He remained there until his court hearing over a week later.
An East London resident, Brian Whelan, is working with lawyers to challenge the decision to allow the ministry of defence to install rockets in Bow Quarter, one of a number of sites around London where surface-to-air missiles will be placed as a counter terrorism measure. The decision, made without any consultation and with the acquiescence of local authorities, has sparked a huge amount of local concern, a fair amount of national debate, and the Stop the Olympics Missiles campaign.
Always ready to jump into the thick of things, the Space Hijackers have lauched their 'Official Site For The Protests Of The London 2012 Olympic and Paralympic Games'. Their '10 Reasons why the Olympics is something worth protesting against' provides a neat summary of what is wrong with what big sporting events have become.
The Hijackers' use of the 2012 logo fell foul of the law protecting the Olympic brand and they found their Twitter account suspended at the request of LOGOG, despite the social network's reputation as a force for social change. It was only reinstated once the 'official protesters' changed their logo.
The gloves are off
It is becoming evident that every campaign, information site or act of resistance is being monitored. Photos of subversive T-shirts have been circulated to security guards to prevent dissenting material reaching the stands.
The recent Network for Police Monitoring conference heard how journalist Marc Vallée was approached by a private company compiling information on campaigning organisations for private and government clients in relation to the Olympics.
The conference, on the concept of 'total policing', discussed a number of Olympic-related policing measures that will have a significant impact on the liberties of locals and activists. A three-month anti-social behaviour dispersal zone around Stratford and curfew powers for under-16-year-olds are already in place and, under the Protection of Freedoms Act 2012, the police will be able to stop and search vehicles and people within an authorised area without reasonable suspicion. This will undoubtedly apply to Olympic venues and their surroundings. Newham Monitoring Project are training people as legal observers to help protect the rights of local communities.
The real legacy
Groups such as the Counter Olympics Network are asking what will be left for the public good when the games are over.
The London Olympics has pumped vast amounts of public money into developments that will be sold to private companies, privatising public space and leaving behind little for future public benefit.
How many new facilities will there be to nurture the interest in sport the Olympic organisers say they wish to spark?
As house prices and rents in East London have rocketed, local people and businesses are displaced and traffic lanes are segregated to allow VIPs and corporate executives to speed through the congestion to their paid-for seats, the legacy of the games may well be one of elitism, conflict, chaos and lingering injustice.
We will also be left with a raft of new surveillance, security and policing measures, including drones patrolling the skies, that will create a new norm for dealing with large public events and public order situations.
The presence of military hardware and snipers on the streets, along with the central role given to the armed forces in the opening and closing ceremonies, will further establish the military's involvement in civic life.
An acceleration of corporate power, privatisation and militarisation is a far cry from the so-called spirit of the Olympics, yet the experience of recent host countries suggests the same.
A move by campaigners to expose the Olympic myths on a global scale could be an effective next step.