Issue

June 2012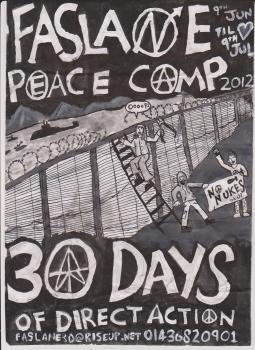 Faslane Peace Campers are happy to announce that the 30 Days of Action, from 9 June to 9 July, will be filled with anti-nuclear shenanigans of the highest order.
Of the things we can disclose: there will be a CND peace picnic on 17 June; a peace march from Glasgow to Faslane from 21-23 of June; and on 1-2 July there will be a two-day Rise Up musical gathering – everyone is welcome and no experience is necessary!
On 6 July, academics from all over the world will descend on Faslane for a Security Seminar Blockade, reclaiming the public space for democratic debate on what security means both geopolitically and in people's everyday lives.
Oh, and The Clandestine Insurgent Rebel Clown Army (CIRCA) will NOT be marching on Faslane nuclear submarine lair on 7 July, oh no!
On everything else: there will be artful insurgency throughout of a nature we would prefer not to disclose to 'the powers that be'. We hope to take nonviolent direct action at least once a day! So do come along whenever you can and you will find actions waiting to happen via autonomous, inclusive, consensus-based planning and participation.
You may find yourself racing in a Peace Olympics or reclaiming our beautiful hills!