Issue

June 2012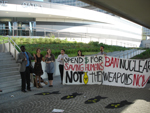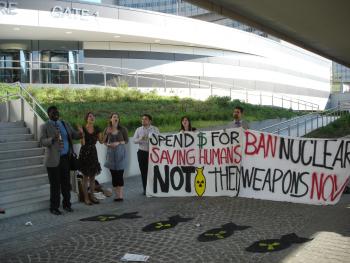 In May, I joined with 580 civil society delegates to take part in a 'Mexican wave' of briefings and side events at the preparatory committee for the Non-Proliferation Treaty review conference (NPT PrepCom) in Vienna.
On the eve of the wave, 150 of us met at the International Campaign to Abolish Nuclear Weapons (ICAN) campaigners' meeting to exchange our experiences and consider priorities.
The anti-nuclear physicians (IPPN) presented a new 'nuclear famine' report highlighting the potentially catastrophic consequences of nuclear weapons. This, alongside ICAN's 'Don't Bank on The Bomb' report (see PN 2545) might be key to nuclear divestment campaigning. A new ICAN presence in Turkey, Egypt, Israel, Syria and Bahrain informed us about nuclear disarmament campaigning there and Finnish facilitator Jaakko Laajava reported on the proposed 'nuclear-weapons-free Middle East' Helsinki conference.
While Scotland cannot sit at the NPT table, NPT governments and NGOs were interested in how the UK's entire nuclear arsenal is deployed within Scotland – a country both opposed to nuclear weapons and in the middle of a debate about becoming independent. They listened to Scottish CND's John Ainslie as well as the Scottish Nationalists' Bill Kidd MSP (member of the Scottish parliament) who confirmed the Scottish government's view.
I do not think it breaches the confidentiality of an off-the-record briefing to say that no one from the UK delegation seemed to have any idea of what a future government might do with Trident if Scotland chooses to follow its own non-nuclear path.