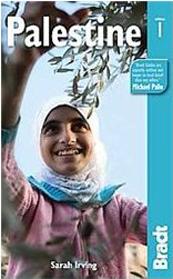 Bradt commissioned Sarah Irving to write this updated version in 2010, and it is gratifying to read a travel guide entitled Palestine rather than Israel and the Occupied Territories.
A seasoned campaigner, Sarah has been a frequent visitor to Palestine since 2001, and the result is a meticulously-researched book that offers the visitor a mine of information, suitable for both activists and inquisitive travellers.
The West Bank, Gaza and Palestinian communities in Israel are all included, together with details of hotels, cuisine, entertainment, shopping, and places of interest.
For the activist, there is comprehensive source material on how to get involved on the ground, as well as less-risky activities for the traveller who wants to find out more without putting themselves in jeopardy of arrest or deportation. There is also good advice on how to get into Palestine (Israel has been known to deny entry to visitors whose declared intention is to support Palestine).
In the opinion of supporters and Palestinians alike, a good way for internationals to oppose the occupation is to visit Palestine and "tell the world what life is like under occupation". 
This book is an invaluable guide on how to do this and a useful tool in countering the Israeli propaganda machine's charm offensive.