Issue

February 2012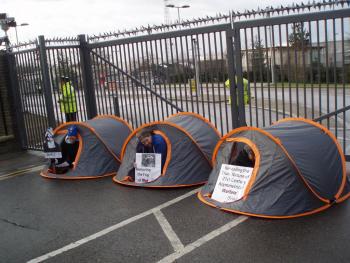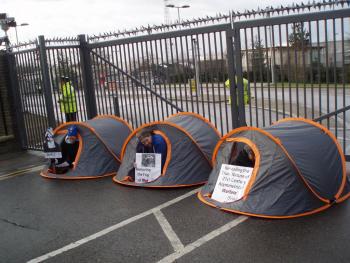 Tents at Northwood gates. PHOTO: Maria Albrecht
On 29 December, the Christian Holy Innocents Day, a group of 16 Christian peace activists closed the main entrance to the Northwood military headquarters for two hours. After pitching their tents, some knelt to pray, while others held placards outside the north London base, which is the command centre for all British forces in Afghanistan. A banner reading "Occupy Northwood HQ not Afghanistan" was hung on the fence.
The five occupiers were: Maria Albrecht (50) and Scott Albrecht (49) from the Catholic Worker Farm, Hertfordshire; Henrietta Cullinan (50) from the Catholic Worker in Hackney; John Lynes (83), a Quaker from Hastings; and Rachel Wood (28) from the Catholic Worker group in Sheffield. There were no arrests.
A group statement said: "When government cuts are affecting innocent children, pensioners, teachers, the sick and refugees, the last thing we need to be doing is to continue spending billions on warfare. Human lives are the deepest cost. The government complains about a few tents occupying a small square outside St Paul's cathedral while we've sent thousands of soldiers to occupy other people's countries and destroy their lives".
Martin jailed
On 9 December, Highbury magistrates' court sentenced Martin Newell of the London Catholic Worker community to 24 days imprisonment for refusing to pay a fine arising from cutting into Northwood on Holy Innocents' Day 2008. He was released in time for Christmas, on 20 December.