Issue

February 2012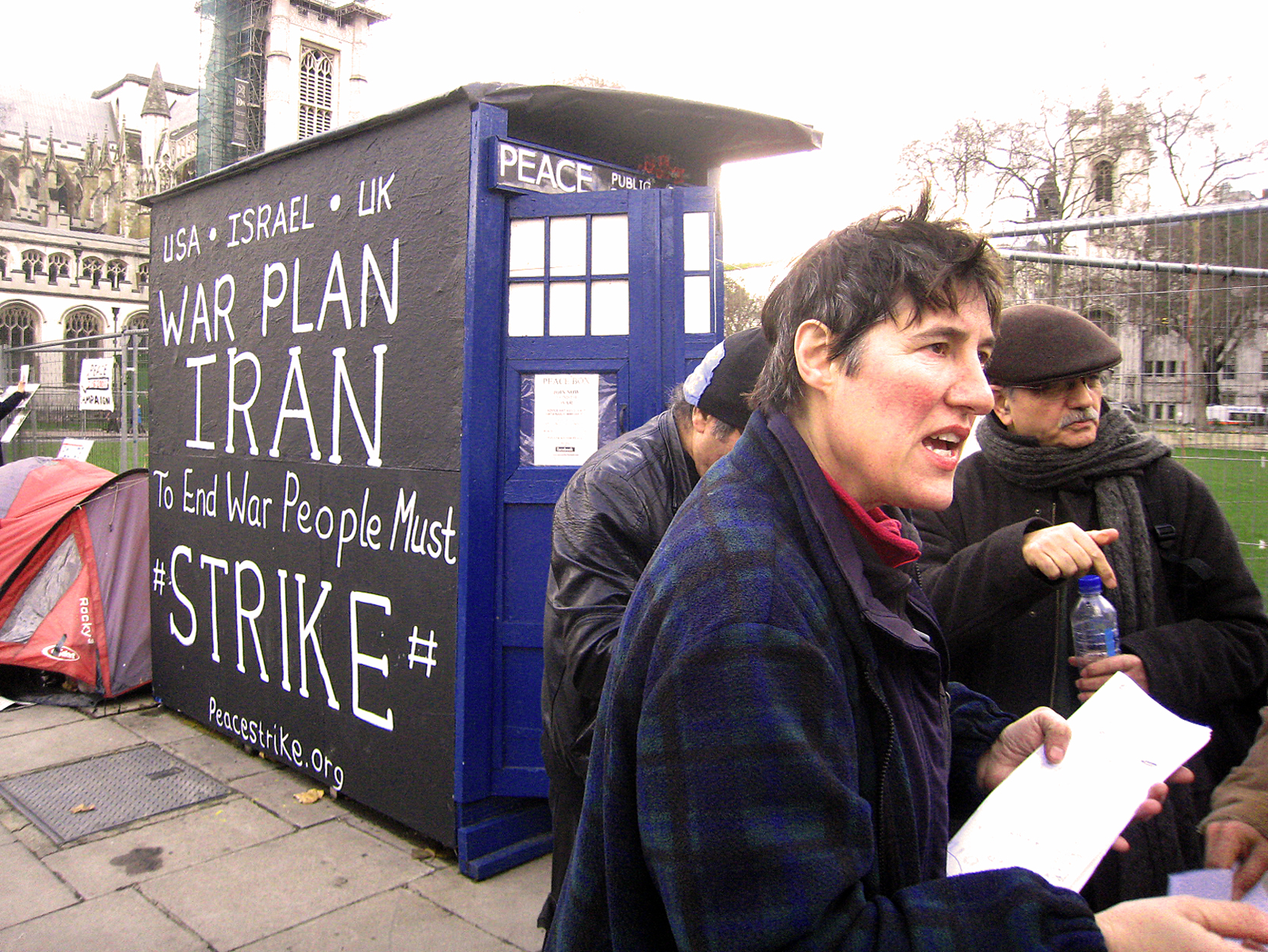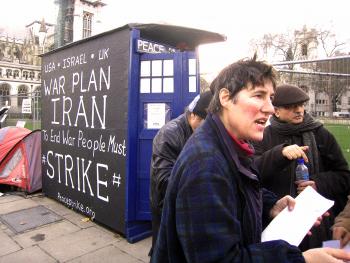 Maria Gallastegui and fellow peace campers protesting against war on Iran or Syria at the Peace Strike camp in Parliament Square, on 19 January. PHOTO: Dan Viesnik
Long-time peace camper Maria Gallastegui, 53, has managed to stave off eviction from Parliament Square, despite the clearing of all other protest camps in the central London square.
Among other structures cleared, the peace camp set up by the late Brian Haw in 2001 was finally evicted by police on 16 January, using a new law, PRASRA (the Police Reform and Social Responsibility Act, 2011), which forbids the use of camping and sleeping equipment in the square.
True to the mean-spirited nature of sections 142-149 of the law, the police were accompanied by Westminster council "Clean Streets" teams who loaded the campers' equipment into lorries. The council leader issued a statement welcoming the police action to "return Parliament Square to open public use", implying that it was the campers who were preventing public use, when it was the council itself that had fenced off the square. 
Two arrests were made for breach of the new law as a handful of protesters refused to leave their pitches on the pavement in front of Big Ben. A third person received a summons to court.
Only a few hours before the clearance, Maria Gallastegui (of Peace Strike) won a high court injunction exempting her while she appeals against the new law. A hearing is expected in March. Maria is therefore still in place, at the time of writing, with her three tents, her "Tardis-style peace box" and her anti-war placards.
Maria's solicitor, Paul Ridge of Bindmans, criticised the police and the council for failing to inform the high court of their intention to clear the square immediately after the hearing on 16 January: "This is a cynical disregard of the rule of law, particularly when the removals took place at time when those protesters could not get legal assistance. Others have the protection of the law and it is plainly wrong to treat others differently to Maria Gallastegui."
Maria explained her fight to protect the right to protest: "I am here because I am campaigning on serious issues. Sleeping in these conditions is not easy and no-one takes it on lightly. A tent or similar structure for sleeping is a necessary tool of the trade.
"Creating a constant presence has proved to be effective – in Parliament Square and for the Occupy movement. By removing our right to create a constant presence, these new laws will have a significant impact on legitimate peaceful protest".
In addition to PRASRA restrictions in Parliament Square, Westminster Council, the GLA and the government are planning to roll out similar controls in other public spaces near parliament, to replace the failed SOCPA laws (which cease to restrict protest around parliament in March).
Maria accused the authorities of clearing legitimate and "lifesaving" protest to make London look good for major events like the queen's jubilee. She told one newspaper: "We're heading towards war with Iran. They don't want people protesting. They want everything nice for the Olympics."