Issue

February 2012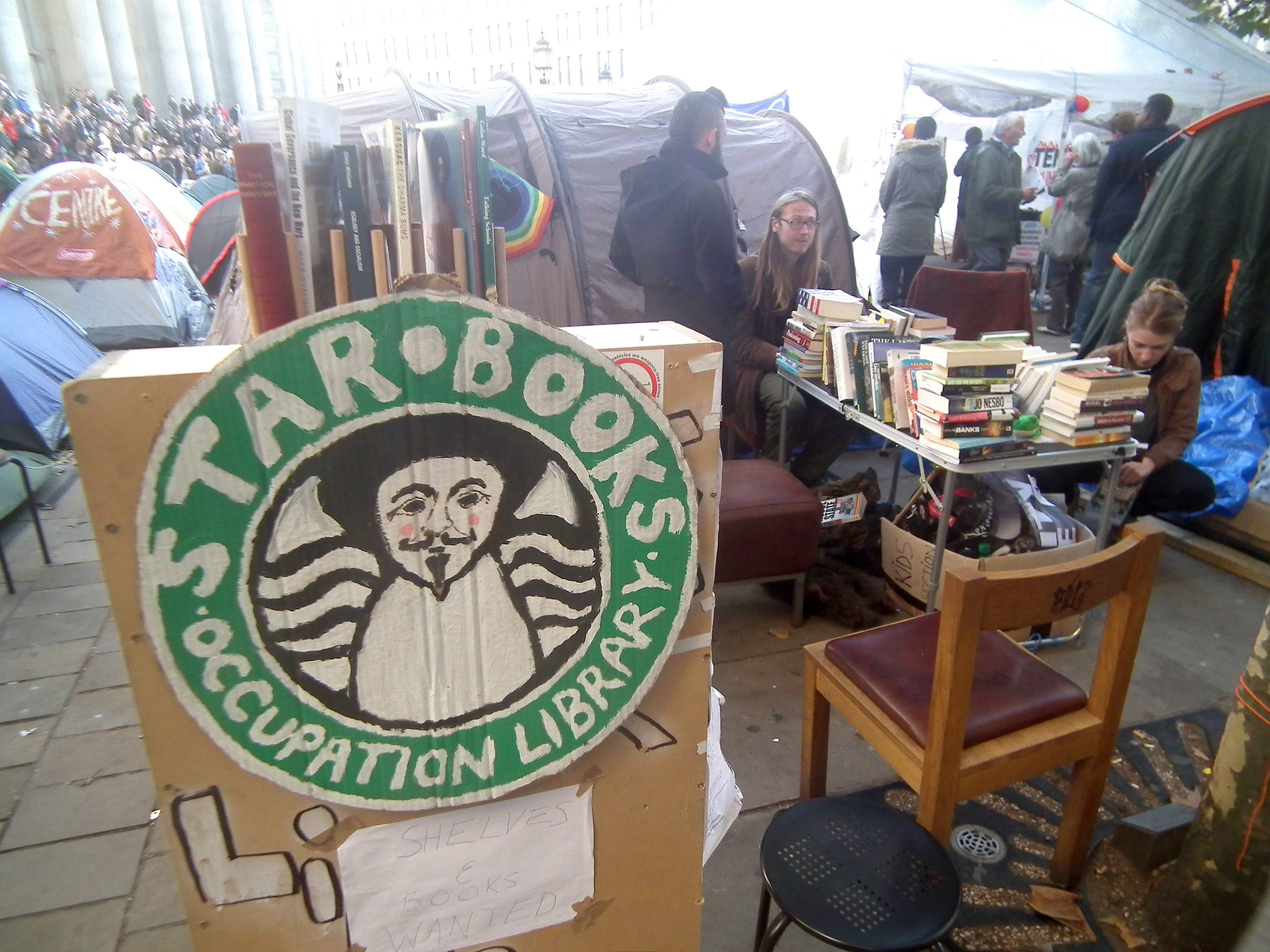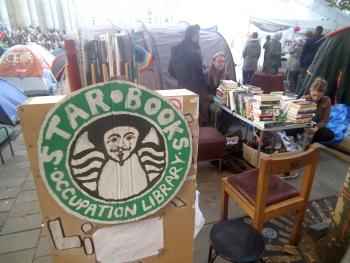 The Occupy LSX library outside St Paul's Cathedral, November 2011. PHOTO: Milan Rai
With bitterly cold winter weather affecting camps, the US Occupy movement is focusing on this year's US presidential and legislative elections, set for November. The movement also organised a number of activities to mark the Martin Luther King Jr holiday in January. Occupy US is also planning a "Shut Down The Corporations Day" scheduled for 29 February.
Dubbed "Occupy the Election", activists made their presence known early in the Republican primaries (to elect a candidate for the US presidency) with sit-ins and heckling of candidates during campaign speeches in Iowa and New Hampshire.
In Iowa, Occupy activists interrupted speeches by Republican candidates Ron Paul and Newt Gingrich. In New Hampshire – home to the nation's second primary election – Occupiers protested against Republican New Jersey governor Chris Christie by holding up a banner that labelled the Republican party as "Gangsters [for] the 1%".
Members of the movement also interrupted a speech by Democrat president Barack Obama in Iowa, calling on him to "stop the assault" on the first amendment rights to protest, noting that 4,000 Occupy protesters had been arrested in the past few months..
On 17 January, activists occupied the US Congress, as thousands of Occupy supporters arrived on Capital Hill to express their belief that ordinary citizens are not being represented by the men and women they elected into office.
"Occupy Congress" maintained the same political neutrality exhibited in Iowa, insisting that it had no affiliation with any political party, union, or interest group. According to their website, the message was: "We have had it with your inability to govern and we are coming to confront you in person! Peacefully."
Occupy the dream
16 January was Martin Luther King Jr Day, an official US holiday. The event was celebrated by Occupy groups around the nation.
The Occupy Boston People of Color Working Group hosted Occupy Boston's weekly Community Gathering to reflect on the ideas, campaigns, and legacy of Dr. Martin Luther King Jr (MLK) and to discuss racism and the Occupy movement.
In Philadelphia, "Occupy Vacant Lots" helped with an MLK Day of Service to clean up local lots for community use before marching in the Occupy the Dream march.
In Minneapolis, "Occupy The Hood" hosted an MLK Day March for Jobs, Housing, and Justice.
In Baltimore, Occupy the Dream protesters occupied the proposed site of a $100 million juvenile detention centre, demanding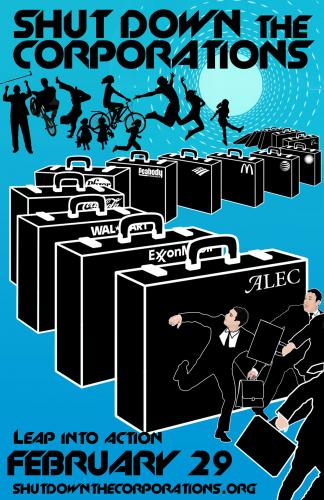 "Schools Not Jails!"
On 20 January, Occupy San Francisco demonstrated in the city's financial district, urging people to take their money out of large national banks and open accounts with not-for-profit credit unions. US credit unions have seen a membership surge since late last year, when Occupy drew national attention to the fees and sub-charges administered by many banks.
On the same day, Move to Amend, a group inspired by the Occupy movement, held a demo at the supreme court: protesters dressed like judges and sang songs by The Supremes. Twelve people were arrested, one inside the building.
It was the second anniversary of the supreme court decision to remove many limits on corporate spending in federal political campaigns.
Noam Chomsky commented at the time: "Now corporate managers can in effect buy elections directly, bypassing more complex indirect means."