On 25 January, after a 10-day trial at the central criminal court in Dublin, Edward Horgan and Dan Dowling were found not guilty of criminal damage for a nonviolent action at Shannon Airport almost six years previously.
On 25 April 2017, the two peace activists were arrested at Shannon Airport, on the west coast of Ireland, and charged with causing criminal damage by writing graffiti on a US navy aircraft.
They were also charged with trespassing at Shannon Airport. The words 'Danger Do Not Fly' were written with a red marker on the engine of the warplane. It was one of two US navy aircraft that had arrived at Shannon from Oceana naval air station in Virginia. After the action, the two warplanes flew on to a US air base in the Persian Gulf having spent two nights at Shannon.
The jury of eight men and four women accepted the peace activists' arguments that they acted with lawful excuse. Judge Martina Baxter gave the defendants the benefit of the Probation Act on the charge of trespass for which they were found guilty, on condition that they agree to be 'bound to the peace' for 12 months and make a significant donation (€5,000 each) to a women's refuge in County Clare.
Both peace activists said they had no problem being 'bound to the peace' and making the financial contribution (donations to charity are often used in Irish courts instead of a formal fine).
Perhaps the most important piece of evidence presented in the case was a 34-page folder containing the names of about 1,000 children who have died in the Middle East.
This had been carried into the airport by Edward Horgan as evidence of why they had entered. It was part of a project called 'Naming the Children' which Edward and other peace activists were undertaking in order to document and list as many as possible of the up to one million children who had died as a result of US- and NATO-led wars in the Middle East since the first Gulf War in 1991.
It was pointed out that at least 38 prosecutions of peace activists had taken place since 2001 in relation to Shannon while no prosecutions or proper investigations had taken place for breaches of Irish legislation by the US military and Irish authorities.
Meanwhile, US war planes continue to refuel and stop over at Shannon.
A Shannonwatch spokesperson said 'Over three million armed US troops have transited through Shannon Airport since 2001 on their way to illegal wars in the Middle East. This is in violation of Irish neutrality and international laws on neutrality.'
As Shannonwatch states: 'The military misuse of Shannon continues.'
------------------------------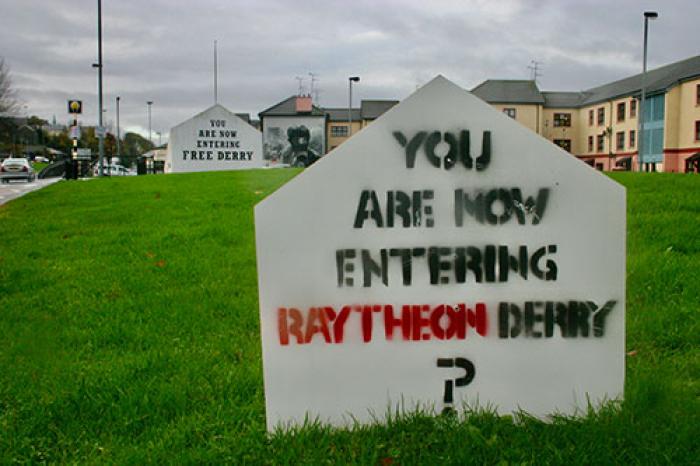 RESOURCES 
Peace News adds:
The INNATE website has a great deal of information on it (including issues of Nonviolent News going back to 1990). INNATE also has well over 2,000 photos and documents online in its Flickr account.
Resources stretch from An alternative defence for Ireland (Dawn, 1983) and The Peace People Experience (where the money went, the story of local groups, and interviews with key personnel) to photographs of the World Beyond War international conference in Limerick in 2019.
Among many other thought-provoking items you can also find: 'Nonviolence – The Irish Experience Quiz' ('a fun way to challenge our perceptions of Ireland over the centuries – with questions on one side and answers on the other'); 'Nonviolence in Ireland – a study guide'; Nonviolence in Irish History ('Dawn magazine's pamphlet from 1978 still has important information and a wider message challenging the view of Irish history only being about violence'); and photographs of the Raytheon Derry campaign (1999 – 2010) – 'a wide range of photos from the successful campaign to get arms company Raytheon out of Derry'.