Issue

April - May 2023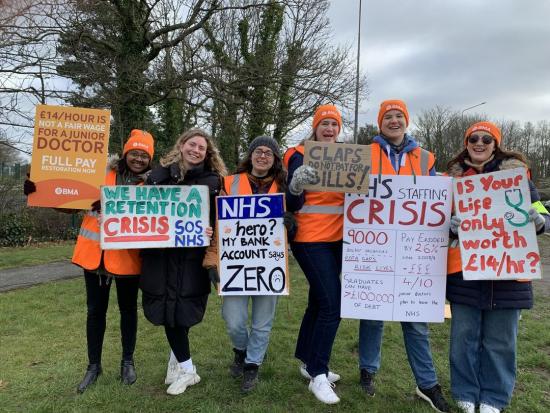 On 11 March, thousands of NHS supporters marched through London, culminating in an #SOSNHS rally outside Downing Street. Footage from the day can be viewed on the 'Keep Our NHS Public' website.
An estimated 700,000 British workers downed tools and went on strike on 15 March – the same day the chancellor delivered his budget. Teachers, doctors, transport personnel and civil servants were among those on strike. An estimated 40,000 of those workers gathered at the #PayUp rally in Trafalgar Square.
On 18 March, 3,000 anti-racists marched through Glasgow, 600 through Cardiff and 12,000 through London to #ResistRacism rallies to build opposition to the government's illegal migration bill.
RMT rail workers were on strike on 16 and 18 March. On 22 March, the RMT called off rail strikes scheduled for 30 March and 1 April, saying that a proposal had been put forward by the Rail Delivery Group.
Referring to RMT members working for Balfour Beatty, RMT general secretary Mick Lynch said: 'Balfour Beatty is swimming in money and could easily afford a pay rise which deals with the cost-of-living crisis for our members.'
The train drivers' union, ASLEF, also joined the strikes on 15 March, bringing the London Underground to a standstill.
Junior doctors walked out on 13, 14, and 15 March after more than 98 percent of them voted for industrial action (with a record turnout of over 77 percent). The BMA said there had been 'no meaningful engagement from the UK Government on pay'. Junior doctors then announced a new 4 day strike beginning on 11 April
Earlier, ambulance workers, call handlers and nurses all walked out on 6 February, following strikes in December involving approximately 25,000 999 personnel.
Plans for further strikes have been paused by the Unison, GMB and Unite unions, to allow their members to vote on new offers. Unite will not be recommending that its members accept the offer.
Royal College of Nursing members went on strike for the first time in their history in December 2022. This was followed by further strikes in January, and on 6 and 7 February.
Both the RCN and Unison have paused plans for further action. On 16 March, they announced they would put a fresh government offer before their members. In Wales, nurses' strikes have been cancelled following an offer from the Welsh government.
Physiotherapists held their first-ever strikes in England on 26 January and 9 February with 4,200 thought to have taken part. A further walkout planned for 22 March was suspended for talks. Both Wales and Scotland avoided these strikes by engaging with the Chartered Society of Physiotherapy.
The Fire Brigade Union narrowly avoided taking industrial action (after 88 percent of them voted to do so) after a revised pay offer from the government.
Following earlier strikes on 1 February, around 133,000 civil servants from 130 government departments (members of the PCS union) joined the 15 March strikes. 1,600 driving test examiners, also represented by PCS, are taking 10 days of industrial action during March.
Over 1,000 PCS members working in the Passport Office are taking five weeks of industrial action during April and May.
On 17 March, four more areas of the PCS announced their members had voted 'yes' to industrial action.
The National Education Union walked out between 28 February and 2 March, and then again on 15 and 16 March. On 17 March, teaching unions entered into 'intensive' talks with the government.
The Education Union of Scotland called off their planned strikes on 3 March when they recommended their members accept a new deal from the Scottish government.
70,000 members of the University and College Union walked out 15 – 17 March and 20 – 22 March after 10 days of previous strikes during this wave of industrial disputes. Their strike action will continue while their members vote on proposals.
1,400 Unite members at Heathrow Airport will walk out between 31 March and 9 April.
Two days of strikes by CWU postal workers were cancelled after a legal challenge by Royal Mail. Negotiations continue, with the CWU stating: 'There is enough in the talks to warrant continuing them.'