Issue

April - May 2023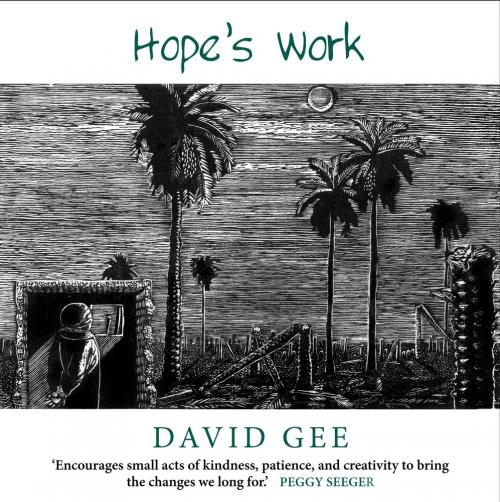 If these uncertain times are wearing you down and you are feeling hope-less (or someone you know is), then this small book offers an opportunity for you to face the darkness, meditate on hope and re-kindle the burnt-out activist.
David Gee is a writer with a special interest in the meaning of hope in the face of global crises. Since 2008, he has written reports and books about recruitment and employment in the armed forces, peace education and children's rights.
Hope's Work, a series of short essays, introduces us to different people – living and dead – to make connections between today's circumstances and historical ones.
The book begins with a creation myth. Tiamat, the dragon mother, is pierced by an arrow shot into her womb by Marduk, chief god of Babylon. It is a story we are familiar with in the guise of 'St George and the dragon'.
Gee looks for hope in the most hopeless situations: how political prisoners maintain their hope; how conscientious objectors' refusal to fight is an act of committed love for all humanity; and how, in 2011, a Libyan woman called Basma becomes an activist after her 17-year-old brother joins a militia to fight Islamist insurgents and is killed.
'I learnt from my little brother that we are dead if we are unable to make hope,' she says. Basma and her two daughters now live in Liverpool where she is studying to be a human rights lawyer and working two part-time jobs.
War and the environmental crisis are both explored.
We learn about the author's father, who trawled the North Sea until the fish were gone; we hear about an infantryman in the Falklands/Malvinas War who is stopped in his tracks when he sees the corpse of an Argentinian boy. And we learn how a US air force chaplain dedicated his life to working for peace following his role in the bombing of Nagasaki.
We re-visit the 2003 No War marches and travel to occupied Gaza where a bulldozer razes family homes.
We meet Václav Havel and James Baldwin, the Diggers, Alice Walker and, closer to home, the artist and Peace News worker, Emily Johns. Her cover illustration is the perfect representation of hope's survival in the face of darkness.
Weaving true stories, myth, scripture and metaphor, Gee's narrative takes us to dark places, yet faith and hope are never obliterated.
The book is also available on Amazon's Kindle – an audio version of the book would be a welcome addition. There is a supporting website which includes further writing, a study guide and podcasts: