Issue

April - May 2023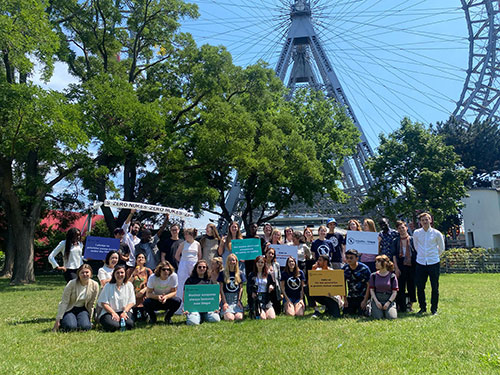 'For too long the perception, and feeling, has been that young people aren't engaged on the topic of nuclear weapons abolition – or at least it just isn't a priority for them. That fell away in an instant. Seeing so many peers at the last MSP in Vienna was like having a fire re-kindled inside you.' Those are the words of Jake Atkinson, communications co-co-ordinator of Youth for TPNW (Treaty on the Prohibition of Nuclear Weapons), talking about the impact on him of the group's first international conference in June 2022.
For myself, I first heard about Youth for TPNW in October 2021 when I got a text from a friend who worked with ICAN, the International Campaign to Abolish Nuclear Weapons. They asked me if I had heard about this new global youth movement that brought together young people working for nuclear disarmament under the TPNW, using research, advocacy and activism.
I immediately joined Youth for TPNW and started working for their policy team, as we made plans for a 'Youth MSP' that would accompany the first 'meeting of states parties' (MSP) in June 2022.
The 'states parties' are the countries that have both signed and ratified the Treaty on the Prohibition of Nuclear Weapons. The TPNW, which came into force on 22 January 2021, bans states parties from participating in any nuclear weapon activities, including developing, testing, producing, acquiring, using or threatening to use nuclear weapons.
An official side-event of the main MSP, the Youth MSP brought together over 100 youth delegates to discuss matters relating to disarmament under the TPNW, alongside meeting with and hearing from various disarmament voices.
One delegate who attended the Youth MSP said: 'Meeting hibakusha [survivors of the atomic bombing of Hiroshima and Nagasaki] was one of the most moving experiences of my life.' Another reflected that the movement had 'deeply influenced me to make big changes to my life and I hope to contribute to it as much as possible moving forward'.
Sarah Kimani, Chair of Youth for TPNW, shares: 'Young people now understand that nuclear weapons are an existential threat to the world we live in, a world we will one day inherit.'
Inclusiveness
Youth for TPNW's special feature is its focus on disarmament from a youth perspective, so there is space in its mandate to allow for youth perspectives to span a variety of topics. Some delegates and members of Youth for TPNW – including myself – came to disarmament through the study of humanitarianism, others through feminist activism, climate activism, or from advocating for indigenous rights.
As nuclear disarmament is a truly cross-cutting issue, the inclusion of topic-specific perspectives into Youth for TPNW's work is necessary to fully express the things that young people care about. Look no further than the Youth for TPNW policy document that was published alongside the Youth MSP.
Through open consultation with members and delegates, topics of discussion range from addressing the risks of emerging technologies to incorporating an intersectional perspective into disarmament diplomacy that acknowledges the disproportionate impact of nuclear weapons on women and indigenous populations.
It is due to this openness that Youth for TPNW has been able to grow significantly since its beginning: young people don't have to adapt or abandon their passions to fit the mandate, as the mandate is shaped by their perspectives.
Feedback from the Youth MSP reflected that the successes of the event came from its inclusiveness. Many delegates praised the fact that the pre-MSP preparations included all of the delegates across many time zones and provided space to share perspectives in an open manner.
A broad community
Moving beyond the first MSP last June, Youth for TPNW's work has begun to develop in ways that lead to long-term community-building and engagement. Frequent community meetings and open lines of communication between delegates and steering committee members make stronger connections that embolden youth to step up and act for what they care about.
As a young activist, it's sometimes been challenging to join this cause that brings many passionate perspectives to the forefront. While we consistently try to remain informed, I and many others are often faced with issues regarding our lack of experience as we work with people who have been passionately arguing in favour of nuclear weapons for longer than we've been alive.
Joining this cause would have been even more challenging if it had not been for the mentorship, camaraderie and community that we gained from other nuclear disarmament organisations. You'd be hard pressed to find a more welcoming community than the supporters of the TPNW – which matches the inclusive spirit of the treaty itself.
I have experienced this personally through benefiting and learning from the community of Scotland-based disarmament organisations and, notably, mentorship from the venerable Janet Fenton (frequent Peace News contributor). I've learned about the value of providing community to young people just starting out in disarmament.
Because we are youth activists, Youth for TPNW activism is grassroots due to a general lack of resources that facilitate large-scale, top-down campaigns. We engage with disarmament from the perspective of and with the methods widely available to young people, including social media activism, academic research and community-building.
By engaging with passionate young people who are willing to contribute in a variety of methods, Youth for TPNW has been able to build a network of delegates across the world who are able to share their unique, country-specific perspectives, shaping Youth for TPNW's policy.
Bedi Racule, president of MISA4thePacific and youth activist, said it best at the first MSP: 'If everyone speaks to their own communities at the same time, we can speak to the entire world.'
Using this network has become a cornerstone of Youth for TPNW's work.
One project for early 2023 is the publication and promotion of a letter calling for appropriate text to be added to the end credits of an upcoming Christopher Nolan film. Oppenheimer is a film about Robert Oppenheimer, the scientific leader of the Manhattan Project that developed the first nuclear bomb. It could risk glorifying nuclear weapons or minimising their modern risks.
Now more than ever
After the first Youth MSP last summer, Youth for TPNW elected their steering committee for the next two-year period (I was elected policy co-coordinator). Inevitably steered by the ongoing conflict in Ukraine, nuclear disarmament conversations will adapt rapidly in the coming period – Youth for TPNW wants to build a strong community of youth activists and partner organisations to strengthen the disarmament conversation and advocate for use of the TPNW.
As policy co-coordinator, I will be starting a series of research papers that will also be able to highlight academic voices and perspectives from youth across the world that relate to disarmament.
Youth for TPNW will also be hosting its second Youth MSP in November, through which a new group of youth activists will be sponsored and supported to attend the main MSP and engage with disarmament diplomacy processes at the highest level.
Magritte Gordaneer, policy co-coordinator with Youth for TPNW, reflects: 'Nuclear disarmament is often seen as a social issue lost in the 1970s, but today's youth involvement as well as the continued work of highly-motivated individuals have brought disarmament into our current political context. Youth are concerned more than ever about their inherited political context and future.'
Magritte adds: 'Youth for TPNW also understands the contexts in which inclusivity and intersectional approaches are essential to our movement considering the gendered and colonial implications nuclear weapons have and perpetuate.'
Speaking personally, I am so glad that I received that text in October 2021. It has opened me up to a massive community of passionate, informed, dedicated young activists who, like me, want to have their voices heard.
Youth for TPNW are clear: young people want a seat at the TPNW's table – if there isn't one, we'll make it ourselves.