Welcome to Peace News, the newspaper for the UK grassroots peace and justice movement. We seek to oppose all forms of violence, and to create positive change based on cooperation and responsibility. See more
"Peace News has compiled an exemplary record... its tasks have never been more critically important than they are today." Noam Chomsky
Richard Power Sayeed, 1997: The Future that Never Happened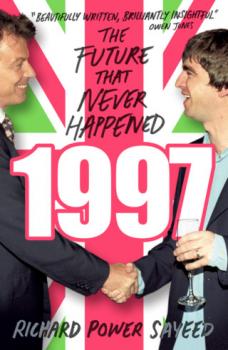 This book analyses contemporary struggles for social justice against the spinning backdrop of New Labour's Cool Britannia. Using pop culture subjects such as the all-women pop group, the Spice Girls, the rebranding of the British royal family, the class war of Britpop, and the public reaction to the Young British Artists (YBAs), the author shows how, while New Labour celebrated the image of a visibly diverse, post-colonial Britain, in reality the roots of our present struggles for justice and equality were glossed over by skillful marketing.

After recalling Labour's election victory, the return of Hong Kong to China and Northern Ireland's (1998) Good Friday agreement, the opening chapter reminds us that British foreign secretary Robin Cook's early statements on an ethical foreign policy and curbs on arms sales were rapidly undermined.

Meanwhile, on immigration policy – illustrated by the arrival of persecuted Roma in Dover in October 1997 – New Labour found itself trapped between welcoming new workers and appeasing the far right. If only, Sayeed notes, Labour's promise of a fairer, devolved Britain – the 'future' of the title – had been more than just phrases. In each of the subsequent chapters he develops this theme, showing how the slogans of Labour and others helped to preserve the structural inequality still present in society.

Central to the book is a detailed and timely account of the murder of Stephen Lawrence, and the subsequent inquest, court cases and inquiries, that eventually led to the police's admission of institutional racism and its efforts to reform itself.

We hear how Stephen Lawrence's mother, now a baroness, fought long and hard to bring her son's killers to justice, even meeting Nelson Mandela along the way. However, the changes she fought so hard for were compromised by the establishment, particularly the right-wing media and the police, who used the case to their own advantage.

The more radical groups that supported the Lawrences – and that worked for structural change – were sidelined. The police declared themselves no longer racist, obscuring the real injustice and racism that remains to this day.

Expert use of iconic items such as Tony Blair's puffa jacket, the chin strap of a policeman's helmet, and Noel Gallagher's Rolls-Royce means that the text is not without nostalgia value.

But at the same time Sayeed is critical, holding up for scrutiny the same failures that are now more deeply evident than ever. For example, Geri Halliwell's Union Jack dress leads the author to consider modern intersections of gender with race and class. The 'feminism-lite' of the Spice Girls Girl Power sounded inspiring but left the patriarchy intact.

Activists will find in this critique of New Labour the serious warning that a radical message, however creatively promoted, is useless without real action. But worse than this, it can be used by the establishment to strengthen its own interests, and can end up obscuring the real injustices that it sought to remedy.