Issue

June - July 2018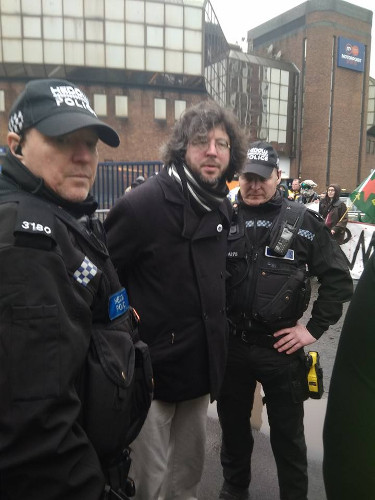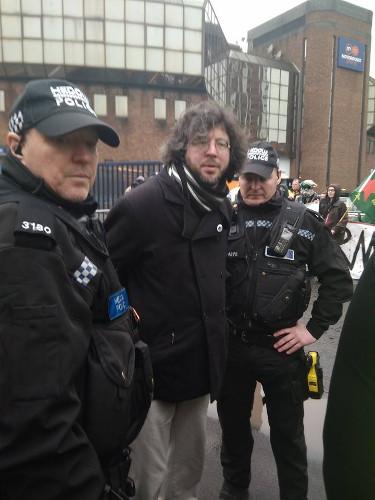 Adam Johannes arrested at the Motorpoint Arena Cardiff Arms Fair. Photo: Ann Bateman
On 27 March, I was arrested, handcuffed and placed in a police cell for over 12 hours. My crime? Nonviolently protesting at an event glorifying violence: the Cardiff Arms Fair (officially 'Defence Procurement, Research, Technology and Exportability 2018').
The Welsh government has built links between Wales and arms industries – selling it as job creation. The arms fair, in the Motorpoint Arena, hosted companies supplying arms to Israel to kill Palestinians, to Turkey to kill Kurds and to Saudi Arabia to kill Yemenis. It's time for the Welsh government to beat swords into ploughshares. In the 1970s, visionary trade unionists from Lucas Aerospace produced detailed plans to build road-rail buses, kidney machines and renewable energy systems instead of weapons. Today, similar 'Arms to Renewables' plans show how a rapid transition from arms industries to green industries could happen with no job losses, increasing employment.
Britain has the highest military spending in Europe and is the second biggest arms dealer on the planet. Slash the military budget and divert money into rebuilding the welfare state. Stopping the Cardiff Arms Fair is part of a greater struggle to achieve an anti-austerity and anti-war government that will remake us as a society exporting aid and doctors instead of weapons and wars.
Of six arrestees, three have been cautioned and three charged with aggravated trespass. Trial is scheduled for early July. Please send messages of support to:
cardiffstopthewar@gmail.com