Issue

June 2014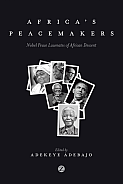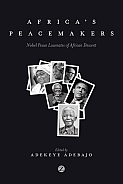 This book gives accounts by various writers – including its editor, Adekeye Adebajo – of the chequered journeys of some interesting personalities, all of whom have won what, to some, is the most coveted prize in the world today.
The list of prize winners includes Ralph Bunche, Martin Luther King and Barack Obama (all from the US); Albert Luthuli, Desmond Tutu, Nelson Mandela and Frederik Willem de Klerk (all from South Africa); Anwar Sadat and Mohamed El Baradei (both from Egypt); Ellen Johnson Sirleaf and Leymah Gbowee (both from Liberia); Wangari Maathai (of Kenya); and Kofi Annan (of Ghana).
The list of contributors – which includes Ali Mazrui, Boutros Boutros-Ghali and Gwendolyn Mikell – will only impress those who use a person's standing on the academic and social rungs of the global Establishment ladder as the main indicator of their knowledge, expertise and judgement. The book appears to be one of the many works long in preparation but quickly rushed to print immediately following the passing of Madiba Mandela, to whom the publication is dedicated.
Most of the book's essays attempt to be readable, factual and analytical. There are good biographical accounts, with enough credit given for achievements deemed to have been scored, as well as some questions raised about a number of the laureate's actions. Nevertheless, the critical appraisals are wishy-washy, often ridiculously weak and lacking in real substance and intellectual honesty.
How do you justify awarding a so-called international prize for peace to warmongering perpetrators of global apartheid racist violence like de Klerk? Or for 'technowargames' maniacs like Barack Obama, or an AFRICOM-USA saleswoman like Ellen Sirleaf? [AFRICOM or US Africa Command 'builds defense capabilities, responds to crisis, and deters and defeats transnational threats in order to advance U.S. national interests and promote regional security, stability, and prosperity' – from the AFRICOM website.]
Moreover, there is hardly any reference to the popular criticisms of the Eurocentric yardstick that is the prize itself: 'the most powerful of Western sirens', as professor Chinweizu – a fellow countryman of the book's editor – long ago called it. His view is quite widespread among grassroots Pan-Afrikan community activists and many progressive forces all over the world.
In his essay 'Pan-Africanism and the Nobel Prize' (reproduced in his 1987 book Decolonising the African Mind), Chinweizu writes that: 'The Peace Prize is for preserving the peace on Western terms, or for engineering a battle truce on terms compatible with the interests of the West, or for limiting the damage to Western interests from insurrections by the oppressed. Thus, when rebellions seriously challenge Western hegemony and White Racism, the Peace Prize is brought out to manipulate them into channels least threatening to Western power'.
From this perspective, the very attitude taken by the editor and most of the other contributors can be said to enhance 'the cultural disorientation and subservience which Western prizes promote'.