Issue

June 2014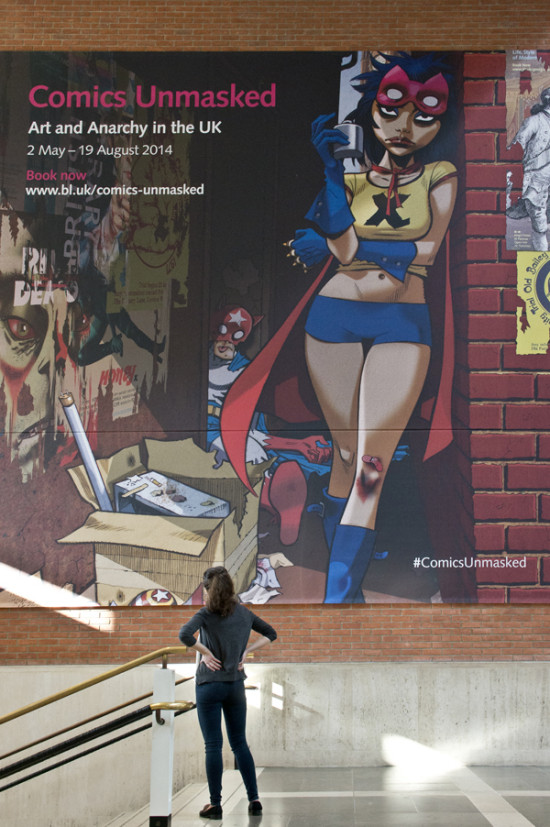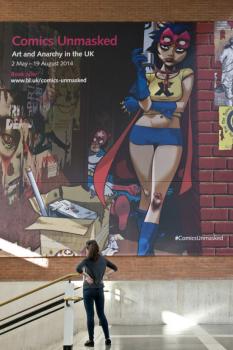 In 1978, in a satricial swipe at the burger giant, British sci-fi comic 2000 AD had its fascist anti-hero Judge Dredd visit the nightmarish 'MacDonald City' – a dystopia within a dystopia. However, they soon became nervous about libel lawsuits, and the axe finally fell – albeit from a different quarter – when a later episode pitted Dredd against a crazy version of the Jolly Green Giant. Threats of legal action from food giant General Mills forced the comic into publishing a half-page retraction in comics form, 'showing the "real" giant supplying Dredd with his favourite sweetcorn.'
This revealing story is related – and the never-reprinted 'MacDonald City' panel reproduced – in the British Library's latest exhibition 'Comics Unmasked: Art and Anarchy in the UK'.
With its A-word subtitle, parental guidance warning and specially commissioned Jamie 'Tank Girl' Hewlett artwork, the exhibition's publicity promises something edgy, transgressive and political – an impression reinforced by the stylishly-laid-out, darkly lit space (which one enters, somewhat gingerly, through a strangely-angled mirrored gateway), numerous references to the Occupy Movement, and the presence of a menacing gang of mannequins wearing V for Vendetta masks (unsurprisingly, Alan Moore's work is omniprescent).
Historically, comics have been opposed – from both right and left – on precisely these grounds. For example, the British Communist Party 'was discreetly behind the early agitator organisations against comics before forming the Comics Campaign Council in 1953'.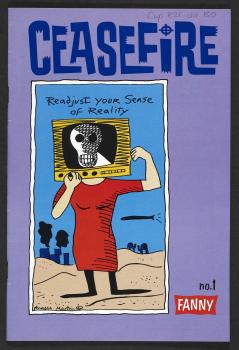 Ceasefire Fanny No. 1, 1991, by Angela Martin © Angela Martin.
Published by Fanny and Knockabout Comics.
The exhibition features comics being harnessed for (and against) women's suffrage (the latter a poke at the Suffragettes in a 1913 Daily Mirror cartoon, comparing the virtuous Joan of Arc with the contemporary Miss Joan Arson), opposing homophobia and misogyny (Floyd Hughes and Charles Shaar Murray's brilliant Friday Night at the Boozer, which appeared in the wonderfully titled AARGH! – Artists Against Rampant Government Homophobia), and protesting against the 1991 Gulf War: Ceasefire (pictured) was the first issue of Fanny, 'the flagship anthology of the British Women's Comic Collective.'
Less successful, perhaps, are Marvelman Family and the Ku Klux Klan (1958) – in which an all-white superhero trio travel to the American South to save 'coloured' students from KKK terror, blacking-up to disguise themselves – and an Anti-Nazi League pamphlet in which the 'Justice Brothers' battle the lies of 'The Fuhrer', zapping him Batman-style with factoids such as 'Liar! All official figures show that black people take less proportionally in social security than whites'.
Historically the production of British comics has been dominated by white men, but other voices are also represented, such as Libyan-born Asia Alfasi, whose autobiographical memoir Beginnings tells the story of her childhood growing up in Edinburgh.
If I have one complaint about Comics Unmasked – and it's a significant one – it's that, trapped in their perspex boxes, many of the comics on the display are difficult or impossible to read – a problem only partially addressed through their reproduction in the (expensive) book accompanying the show.
Nonetheless, I learnt some interesting things, encountered some stuff I'd never seen before, and will definitely be chasing a copy of Sally Heathcote Suffragette.