Issue

June 2014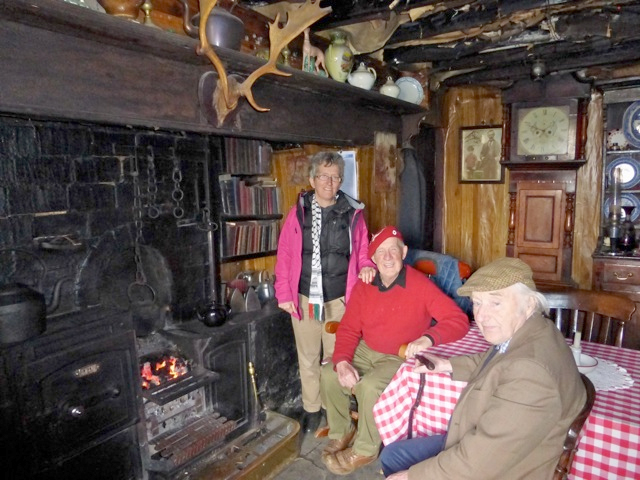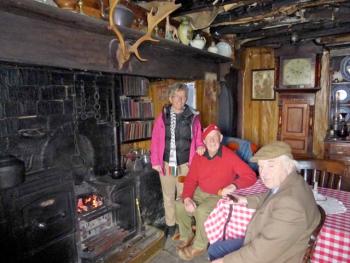 Ray Davies (centre) and Gerald Williams (right)
at Hedd Wyn's cottage. PHOTO: WENDY LEWIS
On our way through North Wales, we passed through Trawsfynydd and called on Hedd Wyn's nephew, Gerald Williams. He led us over the threshold of the poet's isolated farmhouse amidst the beautiful mountains of Snowdonia. Hedd Wyn's mother had kept the cottage exactly as it had been – the books with his handwritten notes on the shelves by the fireplace, the photos on the walls, the small parlour filled with the Eisteddfod chairs he had won in poetry competitions.
After Hedd Wyn's death, his grandmother had instructed young Gerald to always keep the door open to visitors. Hedd Wyn was not a soldier, but a poet. He did not want to go to war. He volunteered as a medic, so his younger brother would not have to fight, but would be allowed to stay and work the farm. Life in the trenches was a living nightmare for the poet, with the relentless cycle of killing in the mud-filled, rat-infested trenches.
Hedd Wyn spent the little spare time he had writing a poem for the National Eisteddfod [the Welsh cultural festival], hoping to win the coveted chair. The set theme was 'The Hero'. He worked on the poem during a brief home leave, but in his haste to catch his train, he left the poem on the kitchen table and had to rewrite it on the journey back to France. Amid the noise of exploding shells and the agonising cries of the wounded, Hedd Wyn completed his entry and sent it by courier to meet the competition deadline.
As the poem was being considered, Hedd Wyn's life was snatched away. '­Yr Arwr' was declared the winner, and then the devastating news of his death was announced to a hushed audience. The Eisteddfod chair was draped in black cloth. Only the winning bard was allowed to sit on it; so it remained empty on the stage, a symbol of the nation's grief. It has been known as Cadair Du, the Black Chair, ever since.
For me, Hedd Wyn epitomises the spirit of peace: gentle, caring, anti-war, but above all, courageous. Standing in his home, looking through the window at the same view of Snowdon which he had grown up with and thinking of the shocking waste of the war, was a very emotional moment for me which will leave a lasting memory.